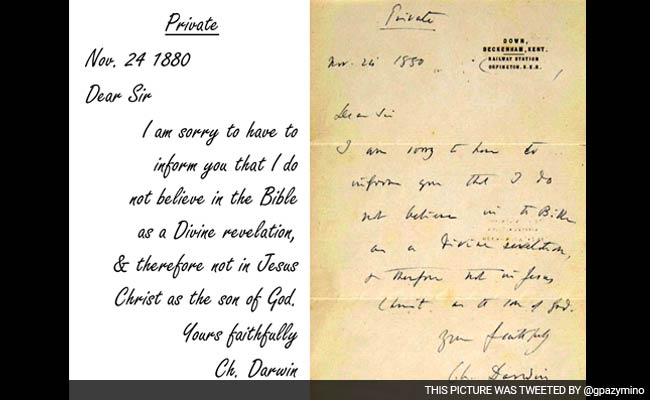 New York:
A handwritten letter in which English naturalist Charles Darwin confesses that he does not believe in Bible as a divine revelation or Jesus Christ as the son of God has fetched a whopping USD 197,000 at an auction in New York.
The letter which went under the hammer at Bonhams on September 21 sold for USD 197,000 - more than twice its estimate of USD 90,000.
The subject of Mr Darwin's religiosity had long been a cause of vehement debate. Mr Darwin himself largely refrained from public comment, probably to respect the feelings of his friends and family.
Mr Darwin's letter is a reply to a young barrister named Francis McDermott. Mr McDermott wrote to Darwin on November 23, 1880, with an unusual request.
"If I am to have pleasure in reading your books I must feel that at the end I shall not have lost my faith in the New Testament," he wrote.
"My reason in writing to you therefore is to ask you to give me a Yes or No to the question Do you believe in the New Testament..." Mr McDermott wrote.
Mr McDermott continues by promising not to publicise Mr Darwin's reply in the "theological papers". Darwin responded the very next day.
"Dear Sir, I am sorry to have to inform you that I do not believe in the Bible as a divine revelation and therefore not in Jesus Christ as the son of God. Yours faithfully Ch Darwin," Mr Darwin wrote.
Just a month before penning this note, Darwin wrote to the prominent atheist Edward Aveling, "It has been always my object to avoid writing on religion, and I have confined myself to science."
Mr McDermott was true to his word and this letter was unknown to scholars for over 100 years.