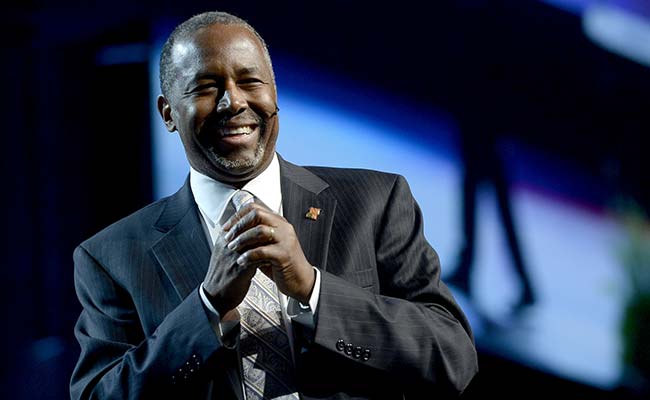 Ben Carson said Thursday that Adolph Hitler's mass murder of Jews "would have been greatly diminished" if German citizens had not been disarmed by the Nazi regime.
The comment, which came during an interview with CNN's Wolf Blitzer, was similar to arguments Carson made following last week's mass shooting at Umpqua Community College in Roseburg, Ore., in which he defended the Second Amendment and suggested that the victims should have fought the gunman.
Carson, a retired neurosurgeon and popular contender for the Republican nomination, has generated headlines repeatedly for speaking his mind. His string of comments on hot-button issues includes questioning whether homosexuality is a choice, saying he would not support a Muslim for U.S. president and declaring last week that he would "not just stand there and let him shoot me" - a reference to the Oregon shootings. Carson has criticized the news media for taking his comments out of context, but he has not backed down from the basic positions.
And there seems little impetus for him to do so. Carson's views on abortion, homosexuality, guns and Muslims are in line with those of the GOP's conservative wing. Carson, who has no government experience, is running second to Donald Trump and is viewed more favorably than the bombastic businessman.
Carson's comments about gun control in Nazi Germany are explored in his just-released book, "A More Perfect Union: What We the People Can do to Reclaim Our Constitutional Liberties," in which he expands on his political views.
He said Nazi Germany was one of the regimes that he used as a cautionary tale against curbing citizens' gun rights.
"But just clarify, if there had been no gun control laws in Europe at that time, would six million Jews have been slaughtered?" Blitzer asked.
"I think the likelihood of Hitler being able to accomplish his goals would have been greatly diminished if the people had been armed," Carson said.
Blitzer pushed a bit more: "Because they had a powerful military machine, as you know, the Nazis."
"I understand that," Carson said. "I'm telling you that there is a reason that these dictatorial people take the guns first."
In interviews this week, he has rejected criticism that he was blaming the victims of Oregon shooter Christopher Harper-Mercer, 26, who killed nine people and wounded nine others before taking his own life. Instead, Carson argued that he's trying to inform potential victims of future incidents.
"I'm not complaining about any of the victims," he said on CNN. "I'm trying to plant the seed because this may not be the last time this occurs. And if it occurs again and there's a bunch of people, they might start thinking, you know what, we're not going to just take this. And that's one of the things that was learned from Flight 93 on 9-11."
Although some, including at least one relative of a shooting victim, have called his remarks insensitive, even some residents of the small town where the shooting occurred have been quoted expressing similar sentiments. Some have criticized President Obama for politicizing the shootings after he harshly criticized Congress for not taking up gun control.
Carson's campaign spokesman did not respond to requests for comment. Armstrong Williams, a close adviser to Carson, said the media storms that have swirled around the candidate's comments have been "a blessing," because it has kept his name in the news and "help us get our story out." He thinks it has helped Carson's standing in the polls.
"For Dr. Carson this is a new language, a new culture," Williams said, arguing that the average voter does not scrutinize candidates for verbal missteps. "They care about intent. I think people understand what Dr. Carson is trying to say."
In the most recent Washington Post-ABC News poll, 45 percent of respondents held a favorable view of Carson while 27 percent had an unfavorable view. In contrast, Trump registered a 35 percent favorable rating and a 60 percent unfavorable rating. Carly Fiorina, the former CEO of Hewlett-Packard, had a 35 percent favorable rating and a 30 percent unfavorable rating.
Despite his tough talk about confronting a mass shooter, Carson described in a radio interview Wednesday a very different reaction to a gunman who confronted him during a hold-up at a Popeye's fast-food restaurant in Baltimore.
"Guy comes in, put the gun to my ribs and I just said, 'I believe that you want the guy behind the counter. . . . He said, 'Oh, ok,' " Carson told Karen Hunter, a host of Sirius XM's Urban View.
"You just redirected him?" Hunter asked.
"I redirected him," Carson said, chuckling.
© 2015 The Washington Post