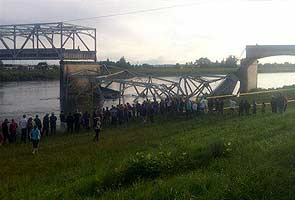 Washington:
A bridge carrying a freeway over a river in the northwestern US state of Washington partially collapsed Thursday, sending cars and people plunging into the water below, police said.
Pictures showed a large section of the bridge, carrying the Interstate 5 highway over the Skagit river north of Seattle, collapsed into the water, with traffic and crowds of people visible on the end nearest land.
"People and cars in water," Mark Francis, spokesman for the Washington State highway patrol, said on his Twitter feed. The police did not immediately return calls seeking more details, including on potential casualties.
At least two cars were in the water, and three people were rescued from vehicles, Marcus Deyerin, spokesman for the Northwest Washington Incident Management Team, told the Seattle Times.
Rescuers believed they had pulled everyone involved out of the water, but they were not sure, he added, saying the section of bridge collapsed around 7:00 pm (0200 GMT Friday), for an unknown reason.