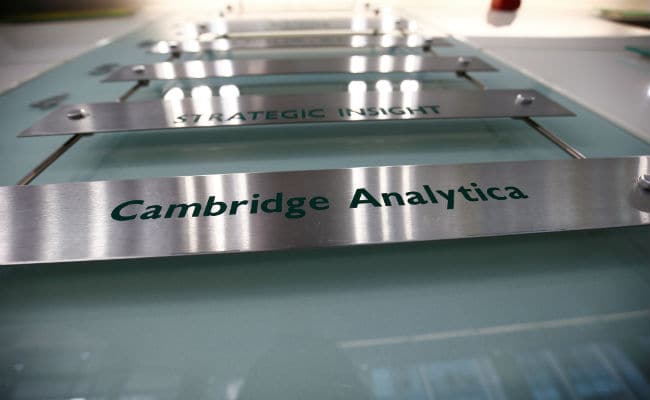 London:
Cambridge Analytica, the UK-based firm in the centre of the Facebook data breach row, announced on Wednesday that it would cease operations and declare bankruptcy in the United States and United Kingdom. But UK's data regulator and a committee of lawmakers looking into the firm have said that investigations into Cambridge Analytica will continue.
"We will be examining closely the details of the announcements of
the winding down of Cambridge Analytica
and the status of its parent company," a spokeswoman for the Information Commissioner's Office, UK's data regulator, said in a statement.
"The ICO will continue its civil and criminal investigations and will seek to pursue individuals and directors as appropriate and necessary even where companies may no longer be operating.
"We will also monitor closely any successor companies using our powers to audit and inspect, to ensure the public is safeguarded," the ICO added.
Lawmakers in UK have also warned that Cambridge Analytica should not escape scrutiny by shutting down. Damian Collins, chairman of the UK parliament's Digital, Culture, Media and Sport Committee - which is investigating Cambridge Analytica - said that the firm and its parent company SCL Elections are party to very serious investigations. "Those investigations cannot be impeded by the closure of these companies," Damian Collins told news agency Reuters.
"I think it's absolutely vital that the closure of these companies is not used as an excuse to try and limit or restrict the ability of the authorities to investigate what they were doing," he said.
Cambridge Analytica said it was no longer viable for them to continue operating as it was losing clients after the data breach controversy erupted in March.
Cambridge Analytica came under the scanner when reports emerged stating that it had amassed data from tens of millions of US citizens through a Facebook quiz app
ahead of the 2016 presidential election.
In total, Facebook has said that
Cambridge Analytica had access to data on 87 million people
, including 71 million Americans, in its efforts to create detailed profiles about voters' backgrounds and behaviors, as well as what types of political messages might appeal to them based on their personalities.
Cambridge Analytica, however, maintained its innocence. "Over the past several months, Cambridge Analytica has been the subject of numerous unfounded accusations and, despite the Company's efforts to correct the record, has been vilified for activities that are not only legal, but also widely accepted as a standard component of online advertising in both the political and commercial arenas," the firm said in a statement Wednesday.
With inputs from Reuters