London:
Britain's Prime Minister Theresa May defended a member of her party on Wednesday who missed a parliamentary debate to be an assistant referee at a Champions League football match.
Conservative MP Douglas Ross is due to be a linesman for the Wednesday evening game between Barcelona and Olympiakos in Spain.
As a result, he missed a debate about welfare reform in the House of Commons -- an absence branded "completely unacceptable" by the main opposition Labour party.
The Scottish National Party, from whom Ross won the seat of Moray in the snap election in June, also raised the issue during prime minister's question time.
MP John McNally held up a red card in the Commons and asked May: "What signal does she think this sends to hard-working members of the public, who are expected to turn up to their day jobs or face sanction?"
The prime minister hit back that Conservative MPs "are doing more for the interests of Scotland in this parliament than the Scottish nationalists have ever done".
A spokesman for the Scottish Conservatives also defended Ross, saying he had held more than 50 meetings with constituents since becoming an MP.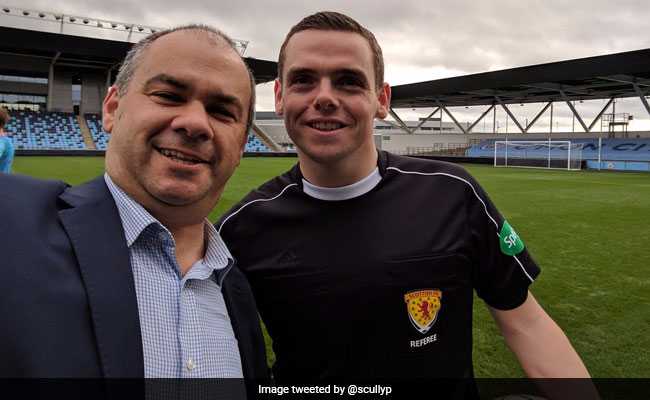 "Despite what the SNP thinks, the people of Moray are right behind Douglas and his refereeing, as they showed decisively when they elected him as their MP just a few months ago," the spokesman said.
In the Commons register of interests, Ross has declared earnings of more than $3,550 for his refereeing work.
It is not the first time he has got into trouble for what he calls a "hobby".
During his previous job as member of the Scottish Parliament, Ross was heavily criticised last year for missing a committee meeting to work at a Champions League match in Portugal.
After the election, he told the BBC: "I've made it very clear during this campaign that my footballing and refereeing hobby won't impact on my parliamentary duties.
"But I also think it's nice to keep an outside interest from politics.
"At the weekend when some others may go hillwalking with their families or something, I still go to run around a football pitch and be abused by both sets of spectators and 22 players on the pitch."