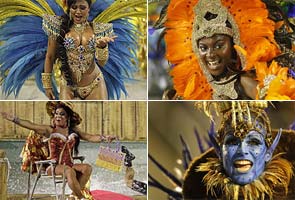 Rio de Janeiro:
It's all electric. Rio de Janeiro's annual carnival parade opened to the beat of drums and roar of fireworks on Sunday, with samba school Sao Clemente in focus.
Strutting in a rainbow of glittering colours, Rio's samba group, The Portela group also made a dramatic entry into the throbbing Sambadrome stadium, its 300-strong percussion section abruptly quieting its thundering drums and crouching down in a moment of silence for the city's losses in last year's fire.
Many wondered whether Portela, which has not missed a parade in its 84-year history, would be able to put on a show at all.
The parade theme, which was inspired by the city itself, featured eight elaborate floats as well as thousands of costumed dancers. It also showed fierce allegiances in a city where fans are as devoted to their samba groups as they are to their soccer teams.
The two nights of lavish parades that began Sunday are watched by millions in Brazil and abroad.
All samba groups compete in the top-tier samba competition, in which groups try aggressively to have their performance judged the best. There is no cash prize for first place this time because groups like Portela, who have lost a lot in the fire, will not be able to recover. Only a trophy and coveted bragging rights are up for grabs then until the next Carnival, next year.