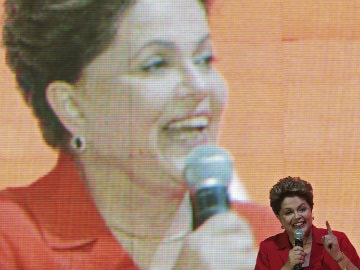 Brasilia, Brazil:
Brazilian President Dilma Rousseff has gained ground among voters after months of declining support, according to a new poll published on Wednesday, apparently benefiting from a successful start to the World Cup.
Support for the leftist president, seeking re-election on Oct. 5., has risen to 38 percent from 34 percent a month ago, the survey of eligible voters by Brazilian polling firm Datafolha said.
Support for her main challenger Aecio Neves has risen one percentage point to 20 percent from the previous Datafolha poll in June, while another rival Eduardo Campos advanced two percentage points to 9 percent, the survey showed.
Rousseff's popularity has been hurt by high inflation in a stagnant economy and her support had been falling steadily from 47 percent in November, according to Datafolha polls.
But the World Cup has gone more smoothly than expected by Rousseff's critics, who said the organization of the 32-nation soccer tournament would be an embarrassing disaster. Anti-World Cup protests by Brazilians opposed to the expense of hosting the event have all but fizzled out.
The new poll confirmed, however, that Brazil is heading for a tough presidential race that will likely go to a second-round run-off three weeks later.
The poll of 2,857 eligible voters was carried out on Tuesday and Wednesday and has a margin of error of two percentage points either way. It was posted on the website of Folha de S.Paulo newspaper that will publish more results in Thursday editions.
© Thomson Reuters 2014