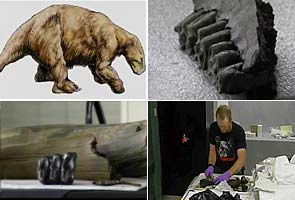 Denver:
Archaeologists digging near snowmass village found more than 500 bones dating back 43 thousand years.
The bones belong to deer, bison, mammoths and mastodons.
"It wasn't just one mammoth it was four, it wasn't just one mastadon it was eight. We go up at 9,000 feet and find a lake full of mastodons so that's how exciting it is," said one.
The bones have been brought to Denver for study after the 18-day dig. Scientists are still figuring out the significance of the huge discovery.
"These animals lived at high elevation in a world that was warming so we have an interesting example of an ancient global warming event and how animals responded to it," said one of the archaeologists.
So incredible were the discoveries that one scientist wanted to rename the resort town after them.
"I want to call the place snow-mastadon, forget snowmass, smiles," said he.
And they're not even finished. Excavation crews will have another six week window in the spring or early summer to search for more bones.