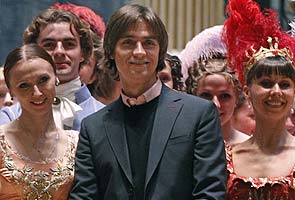 Moscow:
The artistic director of the Bolshoi Ballet will be sent to a hospital in Germany for further treatment and recovery after an acid attack that badly burned his face and endangered his eyesight, a Russian doctor was quoted as saying on Tuesday.
Sergei Filin, 42, has undergone at least four eye operations and other surgery since a masked assailant splashed acid in his face as he returned home from the Bolshoi Theatre in Moscow late on January 17.
Filin will be moved to Aachen, Germany, next week, Russia's chief ophthalmologist, Sergei Neroyev, told sources.
"By all appearances, there will be more operations (on Filin's eyes). It is planned to send him for further rehabilitation and treatment in Aachen," Neroyev said. "It's too early to say how long the recovery will take."
Neroyev told Reuters sources last week that Filin would retain at least some vision in each eye.
The chief doctor at the hospital where Filin is being treated, Alexander Mitichkin, told state television that Filin would be released next Monday and that it was up to him and his relatives where he wanted to go for further treatment.
Filin, a longtime lead dancer at the Bolshoi Ballet who was appointed to the powerful post of artistic director in 2011, said on Monday that whoever was behind the attack was probably driven by ambition or resentment but that he has forgiven them.
© Thomson Reuters 2013