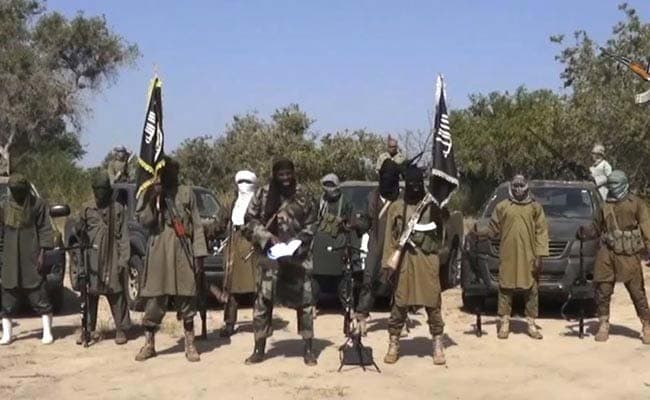 N'Djamena:
At least 15 people were killed in a suicide bomb attack at a crowded market in Chad's capital on Saturday just days after Boko Haram claimed a previous bombing in the city that left 38 people dead.
The attack in N'Djamena by a man disguised as a woman in a full-face veil came after a botched bombing in the capital of Nigeria's Borno state, Maiduguri, which killed two pedestrians.
Militant fighters on Friday night also raided the village of Ngamdu, some 100 kilometres (60 miles) from Maiduguri, killing 11, residents and a member of the civilian militia said.
Both attacks again underlined the threat still posed by the Islamists, despite claimed military successes in recent months and with a new regional force set to deploy at the end of the month.
Experts said the bombing in Chad, following previous strikes in Niger and repeated targeting of northern Cameroon, showed the need for a joined-up solution involving Nigeria and its neighbours.
Nigeria's President Muhammadu Buhari, who came to power on May 29, has made defeating Boko Haram a top priority.
But Ryan Cummings, chief Africa analyst with the Red24 consulting group, told AFP: 'The fight against Boko Haram is unlikely to be concluded with any rapidity.'
'The fact remains that while Boko Haram continues to be defined as a Nigerian problem, evidence suggests that it has become a quandary of regional proportions requiring a regional solution.'
'In the absence of Nigeria's neighbours recognising the extent of Boko Haram's regional contagion and subsequently responding to it decisively, the most exhaustive efforts by the Nigerian government alone won't solve the problem.'
- Full-face veil -
Police director-general Taher Erda said the bomber detonated his explosives belt when he was stopped at the entrance to the market for security checks.
The provisional toll was 15 dead and 80 injured, four of them seriously, said police spokesman Paul Manga. Nine of the victims were female traders and one was a police officer, he added.
An AFP correspondent there described a gruesome scene of carnage and pools of blood.
The area, in the heart of the capital, was cordoned off by security forces after the attack at about 8:45 am (0745 GMT), and a police source said there was 'no doubt it was Boko Haram'.
Prime Minister Kalzeube Pahimi Deubet called a crisis meeting to discuss the attack. Laurent Fabius, foreign minister of Chad's former colonial masters France, called the bombing 'despicable'.
On June 15, 38 people were killed in a twin suicide attack at a police academy and the main police station in N'Djamena, where a French-led operation against sub-Saharan extremists is based.
In the wake of that attack, the authorities in the Muslim-majority country ordered a complete ban on the full-face veil and bombed Boko Haram positions in Nigeria.
Boko Haram this week claimed responsibility for the attack in a statement in Arabic on Twitter.
The communique was signed "Islamic State, West Africa Province", as Boko Haram has styled itself since pledging allegiance to the Islamic State group in March.
The attack in Maiduguri happened at about 7:10 am (0610 GMT) on Saturday. Two bombers in a motorised rickshaw tried to get into the busy Borno Express Terminal but were deterred by heavy security.
- Regional force -
Boko Haram's deadly insurgency has killed at least 15,000 people since 2009 and left more than 1.5 million homeless.
A four-nation coalition of Nigeria, Niger, Chad and Cameroon has reportedly pushed out the militants from captured towns and villages in an operation that began in February.
But since Buhari came to power, attacks have increased and with the latest attacks in Maiduguri and Ngamdu, nearly 580 people have been killed in Nigeria alone, according to AFP reporting.
Also on Friday, eight people were killed in Gamboru when Boko Haram fighters opened fire on residents returning to the abandoned town from Fotokol, just across the border in northern Cameroon.
Buhari, who is coming under pressure to act soon, is pinning his hopes on the deployment of a strengthened regional force at the end of this month.
Experts say the 8,700-strong force, to be commanded by a senior Nigerian officer from headquarters in N'Djamena, will only be effective if coordination between the partners is improved.
Foreign forces will also need free rein to pursue Boko Haram in Nigerian territory after Chadian and Niger troops were ordered to retreat by the previous administration in Abuja.