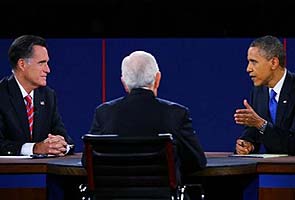 New Delhi:
In an American presidential election campaign where job cuts and tax policies have taken centre stage, it is highly unlikely a debate on US foreign policy will sway undecided voters in favour of either candidate. But let me not get ahead of myself and make those assumptions, as educated as they may be about the impact of the third and final presidential debate where Barack Obama and Mitt Romney exchanged views on matters of strategic interest to America. Sitting all the way across the seven seas in Delhi, if there's one thing that stood out, it was the lack of new content or context the two candidates came to the table with.
Any student of Foreign Policy 101 will tell you the cornerstone of statecraft in matters of global affairs is continuity, irrespective of the worldview of the dispensation in power, no matter what their views when out of it. Romney's barely nuanced agreement on most issues - Israel, Iran, Afghanistan, China - is proof that extremes converge in the centre when power is the end.
Given this fact, the democrats had it easy in 2008. The voting public was swayed not just by the fatigue of eight long years of Bush's wars, but by the radical difference of the democratic choice - a woman or a black man. And when Barack Obama won in 2008, he could not disassociate himself from, disengage with or discontinue the policies his predecessor George Bush left behind. The killing of Osama bin Laden was Obama's victory, but it was Bush's war he won. And, if anything, his appeal to voters this time is to allow him to finish what he started - which is to clean up what Bush left behind. Ergo, continuity.
So if in 2008, Barack Obama was saddled with pulling out US troops from Iraq or Afghanistan, he has tried to do so within the confines of the commitments laid down by the Bush administration itself - of making Afghan security forces self-reliant, of ensuring Pakistan's democracy doesn't succumb to military coups again, of making sure American casualties in these regions were minimised.
Let's not forget, aid packages to Pakistan have gone up exponentially under Obama's watch, even as the US-led military offensives in the Af-Pak areas continue, and western troops continue to fall to Taliban bullets. Obama went after Osama bin Laden, just as Bush had promised America would, he's led the imposition of crippling sanctions on Iran in an attempt to continue a decade of pressure on Iran to roll back its nuclear programme, and just as Bush went into Iraq on manufactured evidence of fighting Iraq's Weapons of Mass Destruction, Obama's Mideast policy today hinges on the same sense of influence Washington thinks it has over enforcing "palatable" democratic institutions across the Muslim world.
It is anyone's guess what those very people of the Muslim world would have thought as they heard a sitting president fighting for re-election and a presidential hopeful say the same thing over and over again. If Romney told his voters "America has got Israel's back," Obama reminded Americans he had taken steps to debilitate Iran's nuclear programme - a threat to Israel and thereby to America. On Syria they sparred over who and how to arm those opposing the Assad regime. On Pakistan both called it a failed state, and raised concerns over extremism and the danger of its nuclear weapons. Neither candidate thought it worthy to acknowledge the need to tweak policy perhaps - to not give open ended aid to Pakistan, or consider alternate strategies that limit the extent of collateral casualties the region sees on a daily basis - whether its Afghan or Pakistani civilians, or western troops.
Opinion polls have called this a tie-breaker debate which Obama won. After all, while Romney seemed to have done his reading (except on geography, when he said Syria was Iran's access to the seas), Obama's fluency on issues he's had to deal with first-hand was unbeatable. For an international audience, however, serious debate on several major issues that should have appeared critical to US foreign policy - especially as it struggles to emerge from a global economic crisis that has cost it jobs and income - was striking. Romney tried to use questions on China to veer the debate back to his comfort zone - of tax policies and job creation, but there was no attempt to address the Eurozone crisis, for example. Above all, watching from so far away, what was missing from both candidates was humility. What came through from both candidates instead, was America's exaggerated sense in seeing itself as arbiter of justice, democracy and safety in the world. And a worrisome dismissal of one major truth - anti-Americanism today as a result of its sometimes ill strategised interventions in the affairs of another country is perhaps as grave a threat to America today as international terrorism is.
For foreign policy to have any real impact on the 20 odd per cent of undecided voters ahead of the November 6 election, it is not inconceivable that placing the need to retrieve a proud American identity on the world stage will have as much resonance in a climate where bread and butter issues are so inextricably linked to international developments.
Get Breaking news, live coverage, and Latest News from India and around the world on NDTV.com. Catch all the Live TV action on NDTV 24x7 and NDTV India. Like us on Facebook or follow us on Twitter and Instagram for latest news and live news updates.