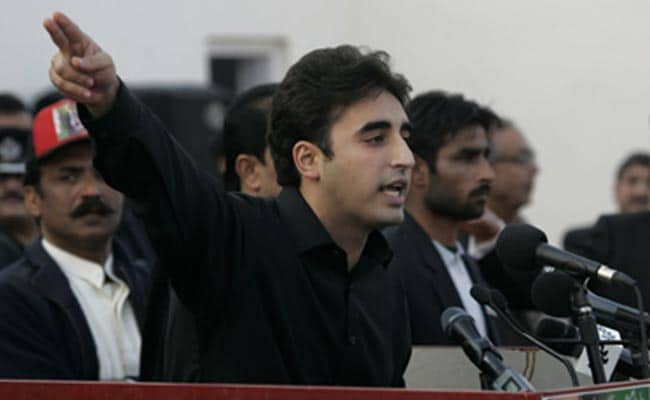 Islamabad:
Pakistan Peoples Party (PPP) chief Bilawal Bhutto Zardari today hit out at Prime Minister Nawaz Sharif, accusing him of "damaging" the country's foreign policy by giving his Indian counterpart Narendra Modi a "certificate of friendship" and over his handling of the Kashmir issue.
Addressing a rally in Bagh area of Pakistan-occupied Kashmir (PoK) - where his PPP heads the government - ahead of election in the region on June 26, Mr Bilawal also accused Mr Sharif of going "soft" on India on the issue of Jammu and Kashmir.
"The premier damaged the foreign policy of Pakistan by giving Modi his certificate of friendship," he said.
He further said that Mr Sharif is "jeopardising the issue of Kashmir by building his associations with Indian Prime Minister Narendra Modi".
In his speech, Mr Bilawal several times chanted "Modi ke yaar ko ek dhakka aur do, corruption ke sardar ko ek dhakka aur do" (Give another push to Modi's friend Sharif, give another push to the mastermind of corruption, in the wake of the Panama Papers controversy).
He asked people to reject Mr Sharif's Pakistan Muslim League-Nawaz (PML-N) in the next election, as it was the best way to rupture relations between Mr Sharif and Mr Modi.
He also criticised Mr Sharif for remaining silent over the issue of arrested alleged Indian agent Kulbhushan Yadav.
"Even if a pigeon from Pakistan goes to India, it is considered as an agent. But if an Indian agent is arrested in Pakistan, our government is treating it like a pigeon," he said.
He also asked Mr Sharif to step down over the issue of Panama Papers leaks.
"I demand the prime minister to step down in order to conduct a transparent inquiry into the Panama Papers revelations," he said.