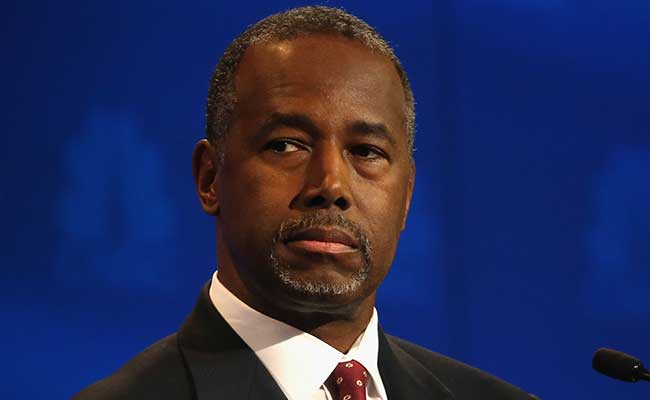 Washington:
Republican presidential hopeful Ben Carson followed rival Donald Trump's lead Monday in saying he too saw a video of Arab Americans cheering as New York's twin towers collapsed on September 11, 2001.
Within days of the 9/11 attacks, police, fact-checkers and US media had debunked the rumors that people were cheering from rooftops of Jersey City, across the river from Manhattan.
But Trump, the billionaire frontrunner for the Republican nomination, suddenly revived the story on the campaign trail Saturday, eight days after deadly attacks in Paris.
"I watched when the World Trade Center came tumbling down. And I watched in Jersey City, New Jersey, where thousands and thousands of people were cheering as that building was coming down," Trump told a rally in Alabama.
Carson, who is currently Trump's top rival in the race, told reporters a similar story Monday.
Asked whether he had seen footage of American Muslims in New Jersey cheering on 9/11, Carson said "I saw the film of it, yes." Pressed which footage he saw, he said "the newsreels."
ABC News published a video of Carson's remarks in Nevada.
"There are going to be people who respond inappropriately to virtually everything. I think that was an inappropriate response," Carson said of the cheering.
"I don't know if on the basis of that you can say all Muslims are bad people. I really think that would be a stretch."
The remarks, particularly by Trump, that there were large groups of Muslims cheering on the day of unprecedented terrorist attacks on the United States drew sweeping condemnation, including from George Pataki, who was New York's Republican governor during the attacks and is currently running for president.
"Not sure what luxury spider-hole @realDonaldTrump was hiding in on Sept 11 but I saw Americans come together that day," Pataki posted Sunday on Twitter.
Jersey City's Democratic mayor, Steven Fulop, also called out Trump.
"Either @realDonaldTrump has memory issues or wilfully distorts the truth, either of which should be concerning for the Republican Party," he tweeted.
Challenged multiple times by ABC's "This Week" talk show host George Stephanopoulos, who argued that police said the cheering did not occur, the brash real estate tycoon stood by his inflammatory remarks.
"There were people that were cheering on the other side of New Jersey, where you have large Arab populations. They were cheering as the World Trade Center came down," he said.
"It was well covered at the time, George."
The Washington Post fact-checker gave Trump "Four Pinocchios" -- its worst rating on the truth scale.
Trump demanded an apology from the Post Monday, saying "many people have tweeted that I am right."