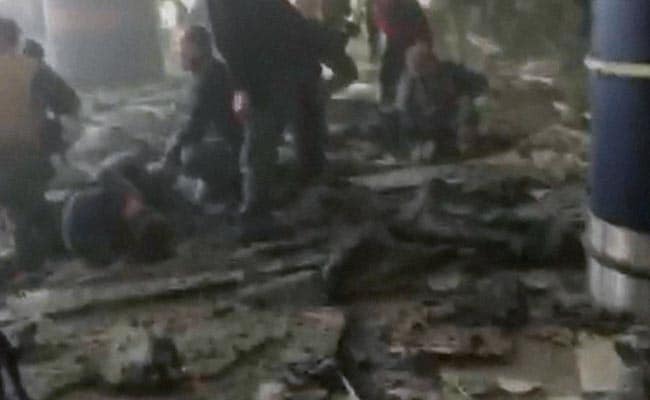 Brussels:
Belgian police investigating the Brussels airport and metro attacks have arrested a man in connection with "terrorist murders", the federal prosecutor said on Friday.
The 31-year-old man, identified only as Ali E.H.A., was detained on Thursday during a house search in the Schaerbeek area of the capital, the prosecutor's office said.
Several people have previously been charged over the March 22 suicide bombings at Zaventem airport and Maalbeek metro station which killed 32 people.
"In connection with the federal investigation after the terrorist attacks in Zaventem and Brussels, a house search was conducted," the statement said.
"The Belgian national Ali E.H.A., born on 23rd September 1984, was arrested and later put in detention by the Investigating Judge for participation in the activities of a terrorist group, terrorist murders and attempted terrorist murders, as a perpetrator, co-perpetrator or accomplice."
It added: "Currently, no further information will be given in the interest of the investigation."
The announcement comes a day after a Belgian court approved the extradition to France of Mohamed Abrini, a key suspect in both the Brussels attacks and the November Paris attacks in which 130 people were killed.
He will not be handed over to French authorities for some time as he is still being investigated over the Belgium attacks.
Abrini has confessed to being the "man in the hat" caught on video with the two airport bombers and who was allegedly preparing to detonate a third bomb before fleeing the scene.
Another key suspect linked to both the Paris and Brussels killings, Salah Abdeslam, was extradited to France in April. Abdeslam's brother Brahim blew himself up during the Paris massacre.
Both attacks were claimed by the ISIS State group and appear to be linked to the same cell of attackers.
The airport bombings were carried out by Ibrahim El Bakraoui and Najim Laachraoui -- who was the alleged bomb-maker for the November 13 attacks on Paris.
The metro bomber was Khalid El Bakraoui, Ibrahim's brother.
Among the other suspects charged in Belgium is Swedish national Osama Krayem, 23, arrested on April 8, who reportedly told investigators that he was also to have blown himself up in the metro but instead disposed of the explosives in a toilet.
Belgium is still recovering from the impact of the worst terror attacks in its history.
Brussels airport only fully reopened to passengers this month, now with increased security, but it suffered a major power outage early Friday which left many people queueing outside.
(This story has not been edited by NDTV staff and is auto-generated from a syndicated feed.)