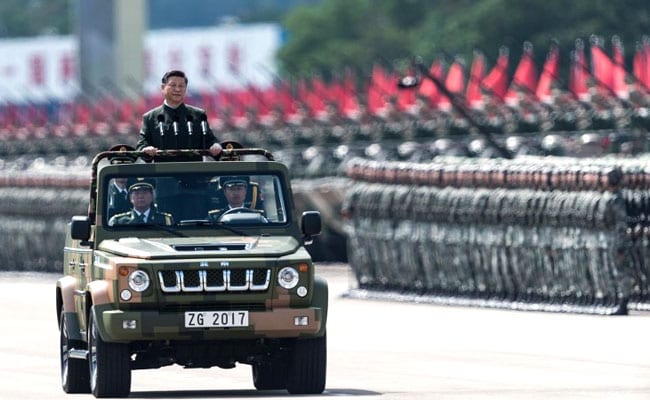 Beijing:
President Xi Jinping has instructed the Chinese armed forces to improve their combat capabilities and readiness for war, an official media report said today. Mr Jinping, also general secretary of the Communist Party of China (CPC) Central Committee and chairman of the Central Military Commission (CMC), made the remarks while inspecting the CMC joint battle command centre as its commander-in-chief.
"The CMC should lead the armed forces to be ready to fight and win wars, and to undertake the missions and tasks of the new era entrusted to them by the party and the people," President Jinping was quoted as saying by state-run Xinhua news agency.
CMC is the overall high command of the 2.3 million-strong Chinese PLA, the world's largest army.
This is the second time Mr Jinping has highlighted the role of the armed forces since he began his second term after securing the endorsement of the key Congress of the ruling CPC which concluded in Beijing on October 24.
He was re-elected as president, general secretary of the party, and head of the military.
Mr Jinping began his second tenure on October 26 with a meeting of top military officials, regarded as a main source of his power base, after the once-in-a-five-years CPC Congress endorsed his leadership for another term and also conferred on him a powerful status, equating him with party founder Mao Zedong by including his ideological thoughts in the Constitution.
Mr Jinping, 64, who heads the powerful Central Military Commission, is the only civilian leader in the body which is otherwise packed with top officials of the armed forces.
In his meeting with the military top brass, he ordered them to be absolutely loyal to the party, to focus on how to win wars, to pioneer reforms and innovation, to scientifically manage commanding a unit, to lead troops in accordance with the strictest standards and to be in the forefront in complying with laws and regulations.