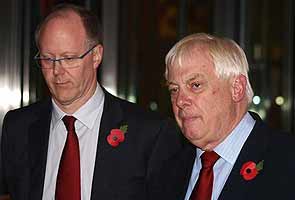 London:
The head of the BBC's governing body insisted on Tuesday he had to give director-general George Entwistle a huge pay-off when he quit in the wake of paedophilia scandals engulfing the corporation.
BBC Trust chairman Chris Patten told lawmakers the £450,000 ($720,000, 560,000 euros) given to Entwistle after just 54 days in the job was "one hell of a lot of money", but there was no better option on the table.
The world's largest public broadcaster has been battered by claims that one of its biggest stars was among Britain's most prolific sex offenders, as well as a television report wrongly accusing a politician of paedophilia.
There were sour exchanges as Patten, who was the last British colonial governor of Hong Kong, was grilled by parliament's Culture, Media and Sport Committee, a panel of cross-party lawmakers.
Patten said Entwistle had agreed to resign on November 10 only if he received a pay-off of 12 months' salary, plus fringe benefits such as medical coverage.
But the chairman insisted that Entwistle was "a decent man who was overwhelmed by a very difficult job" and said he would not join in the "general trashing" of his name.
"He doesn't deserve to be bullied or have his character demolished. What's happened is a small tragedy which has been made rather larger by money."
At one point in the crisis, Entwistle had asked Patten: "Are you urging me to go?" and got the reply: "We're not urging you to go but we're not urging you to stay", Patten revealed.
He said that the trust did not have grounds to sack Entwistle and therefore had no choice but to accept his terms.
Otherwise, Patten added, the crisis would have stretched on and the BBC would have found itself "with a constructive dismissal and probably an unfair dismissal on top of that," which would have been even more expensive.
"It was better than any alternative course of action, unless we wanted the BBC to drift on without somebody at the top."
He said Entwistle's salary was much lower than his predecessors' and the 50-year-old had been some years from retirement. Furthermore, BBC executives are paid at lower than the market rate, Patten added.
On Thursday the BBC appointed Royal Opera House boss Tony Hall, its former news chief, as its new director-general.
He is expected to start work in March.