London:
The BBC has gently turned down a schoolgirl's offer to replace Big Ben's familiar chimes when the London landmark is silenced for repairs. BBC editor Roger Sawyer told 8-year-old Phoebe Hanson it would probably be too much work for such a young girl.
The BBC said Monday that Hanson wrote to the Radio 4 PM program after hearing that the chimes that mark the time on BBC programs would fall silent for the first period of a planned three-year renovation of the clock tower.
In the letter, she said she could hum the chimes and play her own instruments, recording everything on her own microphone for use on the air.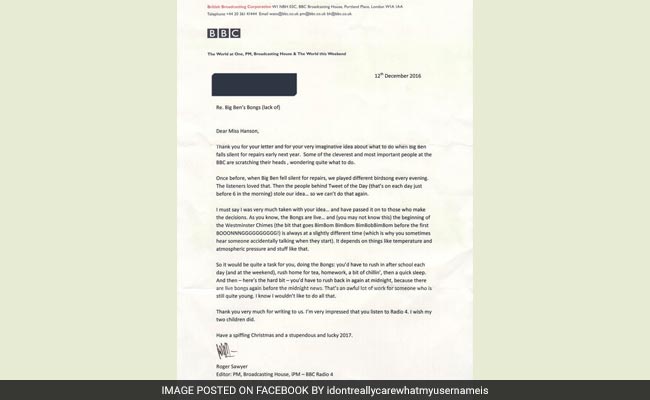 Sawyer said in his letter that it would be "quite a task for you" to handle the BBC bongs: "You'd have to rush in after school each day," he said.
The editor said Hanson "has a great future" because she's shown she can solve problems in a free-thinking way.
Get Breaking news, live coverage, and Latest News from India and around the world on NDTV.com. Catch all the Live TV action on NDTV 24x7 and NDTV India. Like us on Facebook or follow us on Twitter and Instagram for latest news and live news updates.