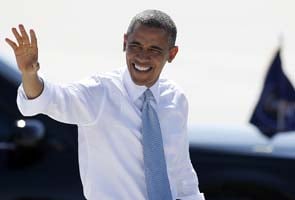 Washington:
President Barack Obama travels to New York on Thursday for a firsthand look at the damage left by superstorm Sandy and to meet with families recovering from the disaster, a White House official said.
It's the first time since his November 6 re-election that Obama will go back to the scene of the late October storm -- a combination hurricane and nor'easter that killed 110 people and left a trail of destroyed homes and businesses.
Obama plans to fly over stricken areas of New York, visit a federally-run "disaster recovery center," and then go on a "walking tour of an impacted neighborhood," a White House official said.
The official would not say which neighborhood the president would visit.
The New York City boroughs of Queens and Staten Island were particularly hard hit by the storm. Many residents of Rockaways, on the southern edge of Queens in Long Island, are still without power.
New York Governor Andrew Cuomo and New York Mayor Michael Bloomberg were joining Obama for the aerial tour, the White House official said.
On Monday, Cuomo asked for $30 billion in federal aid to help his state recover from the storm, describing the impact as "cataclysmic."
The storm hit on October 29 as Obama was in the final stretch of the presidential race against Republican candidate Mitt Romney.
He suspended campaigning for four days to manage the federal response to the disaster, which was felt across a swath of the US East Coast from Virginia to Rhode Island, but was especially destructive in New York and New Jersey.
During a visit to New Jersey on October 31, he toured storm-battered towns with Republican Governor Chris Christie, who showered praise on the president at an uncertain moment in the close race for the White House.