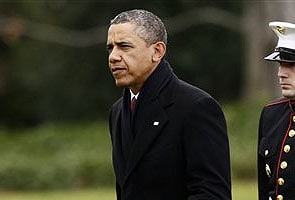 Washington:
With the fiscal cliff deal done, US President Obama on Wednesday returned to Hawaii to resume his traditional end-of-the-year vacation with his family.
Obama boarded Air Force One about 30 minutes after White House remarks applauding the House of Representatives vote to avert a series of tax hikes and budget cuts known as the fiscal cliff, USA Today reported.
The plan approved on Wednesday maintains tax cuts for individuals earning less than $400,000 per year and couples earning less than $450,000. It will raise tax rates for those who make more, marking the first time in two decades the rates jump for the wealthiest Americans.
"Happy New Year everybody,"' Obama told reporters.
Obama and his family began their traditional end-of- the-year vacation on December 21. But the president returned to the White House on December 27 to tend to the fiscal cliff debate. His family stayed back in Hawaii.
Obama is scheduled to return to Washington over the weekend, the report said.