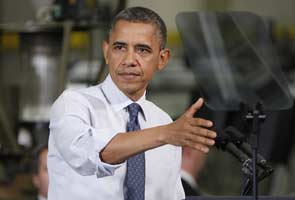 Washington:
US President Barack Obama rushed back to Washington on Thursday in a last-ditch effort to avoid the so-called "fiscal cliff," even as key figures in any deal -- House Republicans -- stayed home.
Cutting short his own Christmas vacation in Hawaii, Obama arrived at the White House shortly before noon (1700 GMT), ignoring questions about the looming financial crisis shouted by reporters as he strode inside.
He has returned to a sharply divided Washington, where the mood has soured on a possible plan to prevent hundreds of billions of dollars in tax hikes from hitting all Americans and deep automatic spending cuts from kicking in beginning on January 1.
Lawmakers have stubbornly refused to compromise, and the Senate's Democratic leader blamed Republicans for the breakdown.
With less than five days before a year-end deadline, Senate Majority Leader Harry Reid said "it looks like" the US economy will hurtle over the fiscal cliff because House Speaker John Boehner and Republican Minority Leader Mitch McConnell were stalling.
Reid said Boehner was running a "dictatorship" in the House by refusing to put to a vote a Senate-passed bill which would prevent taxes from rising on all households making less than $250,000 per year.
He also took Boehner to task for keeping his members on vacation instead of returning for a rare holiday week session.
"Without participation of Leader McConnell and Speaker Boehner, nothing can happen on the fiscal cliff -- and so far they are radio silent," a furious Reid said on the Senate floor.
"Take the escape hatch that we've left you" in the form of the Senate bill, Reid advised Boehner. "Put the economic fate of the nation ahead of your own fate as speaker of the House."
Congress has shown no signs of nearing any accord, and Boehner last week punted to the Democrat-led Senate, asking Obama and Reid to draft legislation that could pass both chambers.
With Boehner remaining in his state of Ohio on Thursday, his office shot back with a curt message.
"Senator Reid should talk less and legislate more," Boehner spokesman Michael Steel said.
"The House has already passed legislation to avoid the entire fiscal cliff. Senate Democrats have not."
Obama called Boehner, McConnell, Reid and House Democratic leader Nancy Pelosi late Wednesday to discuss the way forward, the White House said.
McConnell's office said the senator was "happy to review what the president has in mind, but to date, the Senate Democrat majority has not put forward a plan."
"When they do, members on both sides of the aisle will review the legislation and make decisions on how best to proceed," it added.
Last week, Obama urged Congress to end the deadlock.
The situation has spooked markets, left Americans wondering whether they will pay thousands more in taxes next year, and worried the Pentagon, which fears defense cuts could undermine the military.
Complicating efforts to avoid fiscal disaster, Treasury Secretary Timothy Geithner warned that his department will need to take "extraordinary measures" to keep the US government from defaulting on its liabilities.
Geithner said in a letter to Reid that the nation will reach its statutory $16.39 trillion debt limit on December 31.
His measures would create some $200 billion in headroom that under normal conditions could last until the end of February.
But with "significant" budgetary uncertainty in 2013, "it is not possible to predict the effective duration of these measures," Geithner said.
Experts say a failure to strike a compromise by New Year's Eve could plunge the world's biggest economy into recession.
With the cliff deadline fast approaching, Obama has pared back his hopes for a year-end, multi-trillion-dollar grand bargain that slashes the deficit over a 10-year period.
Instead, he said Congress should approve a stop-gap measure that protects middle-class taxpayers while laying groundwork for further deficit reduction next year.
Obama campaigned for re-election vowing to extend Bush-era tax breaks for households earning up to $250,000 a year, but even if all Democrats voted for such a plan, it would need support from two dozen House Republicans.
Most Republicans in Congress have signed a no-new-taxes pledge, however, and it was unclear just how many would violate that oath in order to strike a deal.
While the Senate resumed its work Thursday, the House was absent, with Boehner promising to give members 48 hours notice before recalling them.
Reid accused Boehner of wanting to go over the fiscal cliff and see all taxes rise, so that Republicans could then vote to reduce middle-class taxes to pre-2013 rates.