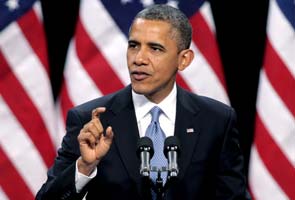 Washington:
US President Barack Obama said that China was taking a tougher line against North Korea's nuclear program as he credited new President Xi Jinping with taking more responsibility in the world.
"We've seen the Chinese take more seriously the problem of constant provocation and statements from the North Koreans - rejecting the nuclearisation," Obama told "The Charlie Rose Show."
"In the past, they would try to paper over the intentions," he said in the interview broadcast on Monday.
"They kind of pushed those problems aside. We're seeing, I think, an interest and a willingness to engage with us in a strategic conversation around those things," he said.
China is the main economic and diplomatic supporter of Kim Jong-Un's isolated regime, which brazenly defied Beijing's warnings by carrying out its third nuclear weapons test in February.
China took the rare step of cracking down on North Korean bank accounts as part of new UN-led sanctions, although many experts doubt Beijing would go so far as to risk a collapse of the impoverished state separating it from US ally South Korea.
Obama said that he saw a gradual movement by China to take more responsibility in global affairs since Xi assumed power in March. Obama held two days of informal talks with Xi on June 7-8 at a California desert resort.
"My impression of President Xi is that he has consolidated his position fairly rapidly inside of China, that he is younger and more forceful and more robust and more confident, perhaps, than some leaders in the past," Obama said.