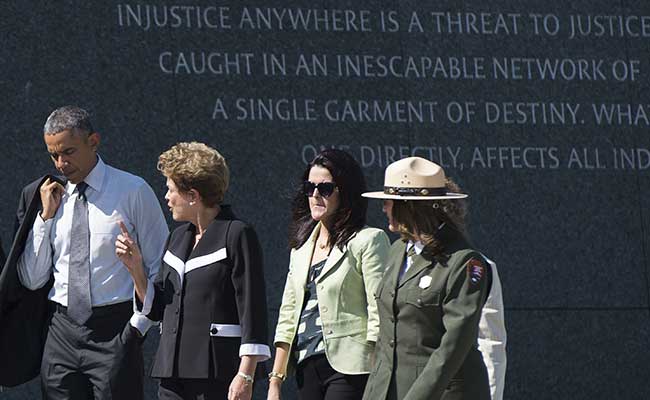 Washington:
President Barack Obama and Brazil's Dilma Rousseff paid a surprise joint visit Monday to Washington's Martin Luther King Memorial, part of efforts to mend fences after a spying row.
Obama hosted the Brazilian leader at the memorial to the civil rights icon and one of his personal heroes, after a "turbulent patch" caused by revelations that US spies had listened to Rousseff's phone calls.
The White House said the visit "underscores the many shared values and strong bonds that exist between the American and Brazilian peoples."
Both countries have large minorities descended from African slaves. Both countries have also had problems overcoming persistent inequality between races.
Obama has often taken allies on symbolic trips in and around Washington.
He also took India's Prime Minister Narendra Modi to the MLK memorial, while Obama and Japanese Prime Minister Shinzo Abe visited the Lincoln memorial.
Rousseff was first expected in Washington in October 2013, but suspended the trip after it emerged US intelligence had spied on her telephone calls and those of millions of other Brazilians.
"The visit itself indicates that we are moving forward here," said senior Obama foreign policy aide Ben Rhodes ahead of the trip.
Obama and Rousseff are due to hold a dinner on Monday, then hold talks followed by a press conference today.