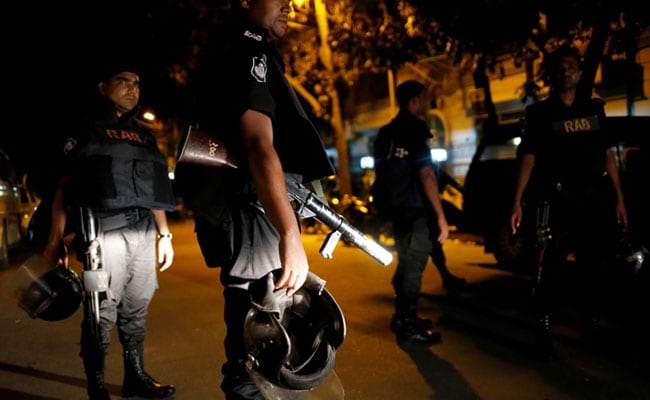 DHAKA/NEW DELHI:
Bangladesh security forces were preparing to free around 20 hostages, including several foreigners, from a restaurant in an upmarket area of the capital Dhaka early on Saturday, after gunmen stormed the building killing at least two policemen.
Gowher Rizvi, an adviser to Bangladesh Prime Minister Sheikh Hasina, told Reuters that security forces were trying to negotiate an end to the crisis, failing which they would launch an offensive to end the siege, possibly as soon as daybreak.
Police said eight to nine gunmen attacked the Holey Artisan restaurant in the Gulshan district of Dhaka that is popular with expatriates.
The assailants, believed to be carrying assault rifles and grenades, exchanged sporadic gun fire with police outside for several hours after the attack, which began around 9 p.m. local time on Friday.
ISIS has claimed responsibility for the attack and said 24 people had died. Bangladesh police denied that assertion, saying that two police officers had been killed and at least 15 people wounded.
Italian and Indian nationals are among the hostages, said a duty officer at the Rapid Action Battalion's (RAB) control room.
Italy's ambassador to Bangladesh, Mario Palma, told Italian state TV that seven Italians were among the hostages.
"It is a suicide attack. They want to carry out a powerful and bloody operation and there is no room for negotiation," Palma said.
The hostage crisis marks an escalation from a recent spate of murders claimed by ISIS and al Qaeda on liberals, gays, foreigners and religious minorities, and could deal a major blow to the country's vital $25 billion garment sector.
Last year, several Western retailers temporarily halted visits to Dhaka following the killing of two foreigners.
SPIKE IN MILITANT ATTACKS
Bangladesh has seen a spike in militant violence in the last 18 months. Attacks have tended to be on individuals, often using machetes, and the raid on the restaurant was a rare instance of a more coordinated operation.
Earlier on Friday, a Hindu priest was hacked to death at a temple in Jhinaidah district, 300 kms (188 miles) south west of Dhaka.
Both ISIS and al Qaeda have claimed responsibility for many of the killings, although local authorities say there are no operational links between Bangladeshi militants and international jihadi networks.
Bangladesh security officials say two local militant groups, Ansar-al-Islam and Jamaat-ul-Mujahideen, are behind the violence. Ansar pledges allegiance to al Qaeda, while Jamaat-ul-Mujahideen claims it represents ISIS.
"The bottom line is Bangladesh has plenty of local, (often unaffiliated), militants and radicals happy to stage attacks in ISIS's name," said Michael Kugelman, South Asia associate at The Wilson Centre in Washington DC, using an acronym commonly used for ISIS.
He added that ISIS had claimed more attacks in Bangladesh than in Pakistan or Afghanistan.
SPORADIC GUNFIRE, CHAOS
Rizvi, the adviser to prime minister, said the hostage crisis began when local security guards in the diplomatic enclave noticed several gunmen outside a medical center.
When the guards approached, the gunmen ran into the restaurant, which was packed with people waiting for tables, he added.
An employee who escaped told local television that there were about 20 customers at the restaurant at the time, and most of them were foreigners. The restaurant has a seating capacity of around 25 people.
There were also some 15 to 20 staff working there at the time, the employee said.
A police officer at the scene said that when security forces tried to enter the premises at the beginning of the siege they met a hail of bullets and grenades.
Television footage showed a number of police being led away from the site with blood on their faces and clothes. Heavily armed officers could be seen milling on the street outside.
A resident near the scene of the attack told Reuters he could hear sporadic gunfire nearly three hours after the attack began.
"It is chaos out there. The streets are blocked. There are dozens of police commandos," said Tarique Mir.
Italy's Foreign Minister Paolo Gentiloni said on Twitter he was closely following the situation in Dhaka, adding he was "anxious for Italians involved" and expressing solidarity with their families.
Prime Minister Matteo Renzi abruptly left a ceremony at the Colosseum in Rome on Friday evening to follow the hostage-taking incident, a source at his office said.
The US State Department said all Americans working at the US mission there had been accounted for. A spokesman said in Washington the situation was "very fluid, very live".
President Barack Obama has also been briefed about the attack, the White House said.
© Thomson Reuters 2016
(Except for the headline, this story has not been edited by NDTV staff and is published from a syndicated feed.)