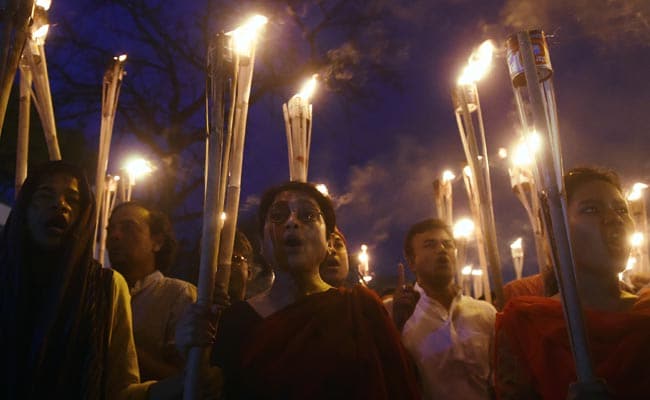 Dhaka:
Bangladesh today banned an Islamist militant outfit that is believed to be behind the gruesome hacking deaths of three secular bloggers in recent months that have evoked outrage in the country and across the globe.
The Bangladesh government banned Ansarullah Bangla Team (ABT) for its militant and anti-state activities with the home ministry publishing a gazette notification in this regard. It is the sixth such organisation to be outlawed for militant activities.
"We had taken the decision to ban the outfit earlier this week on the basis of a police report...we are implementing this decision today," State Minister for Home Affairs Asaduzzaman Khan Kamal told reporters.
The ban comes at a time when three bloggers and writers have been killed in less than three months and the Ansarullah Bangla Team is suspected to be behind the killings.
Earlier this month, machete-wielding masked men hacked to death 33-year-old Ananta Bijoy Das, a secular blogger, in Sylhet city.
Assailants in February had killed 45-year old Avijit Roy, a Bangladeshi-born US national, here while his wife narrowly escaped the attack.
A month after Roy's killing, another blogger Washiqur Rahman was murdered in similar fashion in Dhaka but people in the neighbourhood nabbed two suspected killers from the scene and handed them over to police.
Police has so far arrested several activists of ABT in connection with the murders. Investigators earlier said they suspected that the outfit was closely linked to al-Qaeda.
Das' murder was claimed by Al-Qaeda in the Indian Subcontinent (AQIS). The terror group made the claim in a post on justpaste.it and ABT tweeted a link to the post.
Ten prominent Bangladeshis, including Prime Minister Sheikh Hasina's adviser H T Imam and Vice Chancellor of Dhaka University Professor Arefin Siddique, recently received death threats and police suspected the ABT send the threat letters in the name of al-Qaeda.
Ansarullah Bangla Team is the sixth organisation to be outlawed in Bangladesh with the other five being, Hizb ut-Tahrir, Jama'atul Mujahideen Bangladesh (JMB), Harkatul Jihad Bangladesh (Huji), Jagrata Muslim Janata of Bangladesh and Shahadat-e Al-Hikma.
Four members of ABT outfit have given confessional statements in blogger Rajib Haider murder case. Haider was the first victim of the suspected Islamists who killed him in 2013.
International security think tank Terrorism Research and Analysis Consortium (TRAC) describes ABT as an "al-Qaeda-inspired Islamic extremist group in Bangladesh that started its activities during 2007 as the Jama'atul Muslemin."
It said the group was funded by different NGOs and it ceased to operate when funding ended but the outfit resurfaced during 2013 as the ABT.