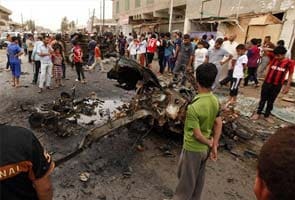 Baghdad:
A wave of car bombs across Baghdad, mostly targeting Shiite areas, killed 23 people on Monday in the latest surge of violence as Shiite Muslims in Iraq marked the birth of a revered figure.
At least 10 vehicles rigged with explosives went off in eight neighbourhoods in the capital, despite tight restrictions on the movement of cars following a spate of similar bombings last month.
The violence comes as the country grapples with a prolonged political deadlock which, combined with unrest at its worst since 2008, has sparked fears of a revival of the all-out sectarian war that blighted Iraq in 2006 and 2007.
No group immediately claimed responsibility for the violence, but Sunni militants linked to Al-Qaeda often target Shiites, whom they regard as apostates, particularly during Shiite commemoration rituals.
Most of the neighbourhoods hit on Monday were majority-Shiite areas, with the violence coming as Shiites marked Shabaniyah, the anniversary of the birth of Imam Mehdi, the so-called 12th imam, a key figure in their faith.
In all, at least 23 people were killed and 81 people were wounded, a security official and medical sources said.
In one attack, outside a popular up-scale supermarket in central Baghdad's commercial Karrada neighbourhood, a car bomb exploded in the parking area immediately in front of the building.
At least four people were killed, including a young girl and a woman, a soldier at the scene told AFP.
The facade of the supermarket was destroyed, and its glass doors were completely shattered, an AFP journalist said. Adjacent cars were badly damaged and broken glass and blood could be seen from dozens of metres (yards) away.
Several of the other attacks appeared to target restaurants and markets -- two car bombs in the Jihad neighbourhood went off near a restaurant and a marketplace, while another vehicle rigged with explosives was detonated near a Karrada market.
While restaurants and markets were largely hit, car bombs also blew up in front of a mosque and a minibus station.
Monday's unrest is the latest in a surge in nationwide violence which comes as the country grapples with months of protests by its Sunni Arab minority, tensions in a swathe of territory that Kurdish leaders want to incorporate into their autonomous region in the north and protracted political deadlock in Baghdad.
Violence has increased markedly since the beginning of the year, with the death toll in May the highest since 2008. The surge has coincided with rising discontent among the Sunni Arab minority that erupted into protests in late December.
Analysts say a failure by the Shiite-led authorities to address the underlying causes of the demonstrations has given militant groups both a recruitment platform and room to manoeuvre.