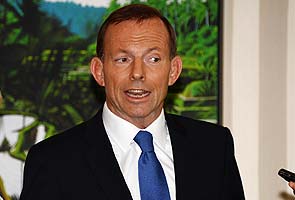 Canberra, Australia:
Australia's new conservative Prime Minister Tony Abbott unveiled his first cabinet on Monday, using the appointment of experienced lawmakers to promise a stable government after three years of minority rule.
Abbott, who won power on a promise to focus on economic management, made only minor changes to his opposition line-up, with Joe Hockey appointed Treasurer, as expected, while Mathias Cormann becomes Finance Minister, shifting from his assistant treasury portfolio.
Abbott's Deputy Liberal Party leader Julie Bishop will become Foreign Minister, and will be the only woman in Abbott's 20-member cabinet, although several women were promoted to junior ministries.
"It is, I believe, one of the most experienced incoming ministries in our history, and I think it's important to have experience as you move from opposition to government," Abbott said, in his first news conference since September 7 elections.
Abbott will become Australia's third prime minister in three months when he is sworn into power by the country's governor-general on Wednesday. He won a commanding majority in parliament on September 7 on a platform to scrap taxes on carbon pollution and iron ore and coal mine profits.
After the previous Labor government switched prime ministers twice in three years, Abbott has promised a methodical government with no surprises.
Abbott's first cabinet also shifted trade responsibility from the minority National Party in his ruling coalition, which has pushed for tighter rules on foreign investment in farms, handing the job to veteran Liberal Party colleague Andrew Robb.
© Thomson Reuters 2013