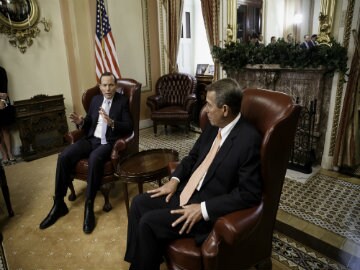 Washington:
The United States has few closer allies than Australia but climate change could prove a touchy issue when Australia's conservative prime minister makes his first White House visit Thursday.
Prime Minister Tony Abbott, who was elected in September, arrives in Washington a week after President Barack Obama announced bold plans to cut carbon dioxide emissions from power plants by nearly a third by 2030 from 2005 levels.
Abbott has described those as sensible steps but has made clear that he doesn't view the fight against global warming as a top priority and is set against action that could crimp Australian business. He plans to scrap Australia's carbon tax on polluters.
"Is it (climate change) the most important issue the world faces right now? I don't believe so," he told reporters after visiting the New York Stock Exchange on Tuesday. "It is one of a number of significant issues that the world faces and we will do our bit."
Otherwise, there are plenty of shared interests between the two leaders. Abbott is an unashamed cheerleader for the strong historical ties between the U.S. and Australia, epitomized by close security cooperation, and is a strong supporter of U.S. engagement in the Asia-Pacific. On Tuesday Abbot declared that "America has no better friend" than Australia.
Australia is hosting a new deployment of U.S. Marines - a concrete outcome of the Obama administration's so-called Asia "pivot" to counter the rise of an increasingly assertive China. Australia is also one of the 12 nations negotiating a U.S.-backed trans-Pacific free trade pact whose members would account for 40 percent of global economic output.
Abbott, whose official gift for Obama will be a nine-foot-long surfboard bearing the U.S. presidential seal, has heaped personal praise on the president this week. He has expressed regret for comments he made last when he was opposition leader and described Obama as leading the most left-wing U.S. administration in at least half a century.
But it is Abbott's stance on climate change that may be watched closest when he visits Washington. One Australian bookmaker has even billed it as a "climate clash" and is taking bets on how many times each leader will mention the issue.
Abbott wants to replace Australia's carbon tax that was introduced by the previous left-leaning government with taxpayer-funded incentives for polluters to reduce their emissions. He's likened that to Obama's plans for getting U.S. states to cut their emissions, but he appears out of step with the U.S. president.
In an interview published at the weekend by the New York Times, Obama described climate change as "one of the most significant long-term challenges, if not the most significant long-term challenge, that this country faces and that the planet faces."
Obama's emissions-cutting plan is likely one of the most significant initiatives he'll take to shape the country he governs during his final years in office. Republicans have slammed it as an attack on the coal industry that will hurt local economies.
The U.S. policy is intended to galvanize the response global warning, and spur emerging economies like China to take action.
Australian media have reported that Abbott is seeking to forge an alliance among right-leaning governments such as Britain and Canada - where he visited before arriving in the U.S. - and push against global moves to introduce carbon pricing. Australia is the current chair of the G-20 group of the world's major industrialized and developing countries.
Australia is one of the world's worst emitters per capita, largely because it relies heavily on abundant reserves of cheap coal for electricity. The U.S. is the biggest source of global carbon dioxide emissions after China.
Get Breaking news, live coverage, and Latest News from India and around the world on NDTV.com. Catch all the Live TV action on NDTV 24x7 and NDTV India. Like us on Facebook or follow us on Twitter and Instagram for latest news and live news updates.