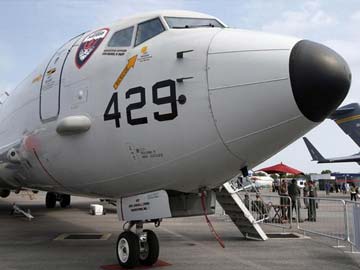 Sydney:
Australia will buy eight of Boeing Co's P-8A Poseidon long-range spy planes for A$4 billion, part of a growing trend by Asia-Pacific nations to protect commercial maritime interests as tensions in the region rise.
The purchase is aimed at dramatically boosting Australia's ability to patrol 2.5 million square kilometres (965,255 square miles) of marine jurisdiction that include offshore oil and gas interests as well as important routes for energy and raw material supply.
While the order has long been expected with Australia contributing to the development of the planes, it comes on the heels of China's first substantial military exercise in the eastern part of the Indian Ocean this month. That has sparked speculation that China too is showing greater interest in protecting its commercial sea lanes in the area.
More than 80 percent of China's oil imports transit through the Indian Ocean on Australia's west coast. Japan, India and South Korea are also dependent on Indian Ocean routes.
"The P-8A is a potent and highly versatile aircraft," Prime Minister Tony Abbott and Defence Minister David Johnston said in a joint statement."
"As well as patrolling Australia's maritime approaches it can conduct search and rescue, anti-submarine and maritime strike missions using torpedoes and Harpoon missiles," the statement said.
The sale also provides an important shot in the arm for Boeing's defense division, where sales have been hard hit by a drop in U.S. military spending.
The first P-8As will be delivered to the Royal Australian Air Force in 2017, with all eight aircraft fully operational by 2021. The order includes the cost of support facilities. Australia also has an option for a further four aircraft.
The planes are designed to replace the Royal Australian Air Force's AP-3C Orions, which have been in service for more than 40 years, and are expected to be supplemented with a fleet of MQ-4C Triton maritime surveillance superdrones at a cost of around $3 billion.
The Triton, under development by Northrop Grumman, is the size of a small airliner with a 40-metre wingspan. It can cruise at 20,000 metres (65,600 feet) for up to 30 hours, sweeping a distance greater than Sydney to London with 360-degree radar and sensors.
This would also provide surveillance compatibility with the U.S. Navy, which plans to buy 68 Tritons when they enter service in late 2017.
The P-8A is based on Boeing's 737-800 fuselage, structurally modified to include a maritime surveillence radar and electronic intelligence equipment as well as a bomb bay, under wing and under fuselage for weapons.
India has ordered 12 P-8I Neptune aircraft, a variant of the Poseidon and has options for four more that it plans to exercise once the first batch have been delivered next year.
Seeking to assert its authority in the Indian Ocean and Arabian Sea, where it is concerned about inroads being made by China via close ties with Pakistan and Sri Lanka, India also plans to acquire another eight fixed wing aircraft for maritime surveillance missions.
Defence analysts say maritime surveillance is the most pressing security need in East and Southeast Asia. Rival maritime claims that have pitted China, which has one of the world's fastest growing militaries, against Japan and other Asian nations have made the South and East China Seas dangerous flashpoints.
Japan is looking to upgrade its maritime patrol fleet of Lockheed Martin P-3Cs via its P-1 programme, which is being spearheaded by Kawasaki Heavy Industries.
South Korea, which also operates P-3Cs, is increasingly concerned about North Korea's submarine fleet and tensions in the Sea of Japan. While embarking on an upgrade to the P-3Cs, it is also planning a tender to buy a new fleet of maritime patrol aircraft to replace them. Options include the P-8, the Airbus <AIR.PA> Casa C-295 maritime patrol aircraft, and the Lockheed Martin SC130-J Sea Hercules.
© Thomson Reuters 2014