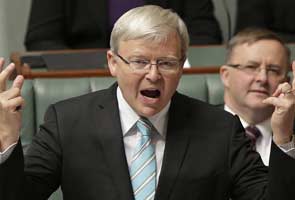 Sydney:
Australia announced on Friday that boatpeople will no longer be resettled in the country, unveiling a hardline policy to curb people smuggling that will see all unauthorised arrivals sent to poverty-stricken Papua New Guinea.
"From now on, any asylum-seeker who arrives in Australia by boat will have no chance of being settled in Australia as a refugee," said Prime Minister Kevin Rudd, announcing his harsh new border protection policy in an election year flanked by PNG counterpart Peter O'Neill.
Asylum-seekers arriving at Australia's far-flung Christmas Island will be sent to the Manus Island processing centre on Papua New Guinea and elsewhere in the Pacific nation for assessment, with no cap on the number to be transferred.
Even if found to be "genuine refugees" Rudd said asylum-seekers would have "no chance" of settlement in Australia under the new policy and will have to remain in PNG.
Those whose applications are not successful would be sent back home or to third countries.
The Regional Settlement Arrangement, which was signed by the two leaders Friday, will initially be in effect for 12 months and reviewed annually. It will come into effect immediately.
The aim is to pose a strong disincentive for people considering the dangerous boat journey from Indonesia, particularly so-called "economic migrants" who make the trip not to flee persecution but for a better life in Australia.
Foreign Minister Bob Carr has said that increasing numbers of asylum-seekers arriving by boat fall into this category, many from Sri Lanka and Iran.
Conservative opposition leader Tony Abbott said there were promising aspects to the plan but questioned how the current rate of arrivals -- up to 1,000 per week -- would be accommodated in PNG.
The left-wing Greens party denounced it as "ruthless and repugnant", noting epidemic levels of lawlessness and violence in PNG, particularly against women, as well as the poverty, shortage of housing and prevalence of malaria.
Amnesty International said it was "the day Australia decided to turn its back on the world's most vulnerable people, closed the door and threw away the key".
Rudd's new policy was announced as Indonesia agreed to tighten visa restrictions for visitors from Iran, who currently enjoy visa-free entry to the sprawling Southeast Asian nation and can then pay people-smugglers for passage to Australia.
"The minister plans to sign a letter that will prevent Iranian citizens from being granted visas on arrival. But he has not done so yet," a spokesman for the Indonesian Ministry of Justice and Human Rights, Goncang Raharjo, told AFP.
It follows talks between Rudd and Indonesian President Susilo Bambang Yudhoyono in Jakarta earlier this month, where they announced an agreement to promote greater regional cooperation on cross-border immigration.
The hardline stance, among the strongest an Australian prime minister has taken on the divisive issue, is also designed to starve the lucrative people-smuggling networks that charge boatpeople thousands of dollars to make the hazardous trip.
"The hopes they offer their customers for the future are nothing but false hopes," said Rudd, who added that he had spoken to United Nations Secretary-General Ban Ki-moon about the plan.
Australia has struggled to stem an influx of asylum-seekers arriving by boat, with record numbers turning up in 2012 and more than 13,000 so far in 2013.
Hundreds have drowned making the journey -- as recently as Tuesday a boat sank, killing four people -- and Canberra's plans to send asylum-seekers to remote Pacific islands for processing has so far failed to stop the flood.
"Australians have had enough of seeing people drowning in the waters to our north," said Rudd, who is facing national elections later this year with asylum-seekers a major policy issue.
"Our country has had enough of people-smugglers exploiting asylum-seekers and seeing them drown on the high seas.
In exchange for their cooperation, PNG will get extra foreign aid from Australia in a range of areas including health, education and law and order.