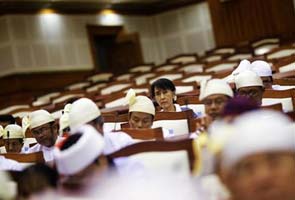 Yangon:
A month before Aung San Suu Kyi was born, on June 19, 1945, her family moved into a two-story mansion near Kandawgyi Lake in Myanmar's largest city Yangon. Built on a small hill, it resembles the house from Hitchcock's
Psycho,
but with a real-life history of horror.
An older brother drowned in the garden pond, while a younger sister died in infancy. Then, in July 1947, six months before his country gained independence from the British, her father, General Aung San, was assassinated. He was 32. Suu Kyi was two.
After the assassination, the government granted the family land on the shore of nearby Inya Lake. Suu Kyi grew up at this now-famous address: 54 University Avenue.
She was educated in Delhi and Oxford, where she met and later married Michael Aris, a Tibet scholar. They had two children, Alexander and Kim, and for the next 15 years she was an Oxford housewife.
Since childhood, Suu Kyi had been "deeply preoccupied with the question of what she might do to help her people," Aris wrote in 1991. "She never for a minute forgot that she was the daughter of Burma's national hero, Aung San."
Suu Kyi returned to Yangon in 1988 to nurse her dying mother and was swept up in a pro-democracy uprising against military rule. Soldiers crushed it, and Suu Kyi spent most of the next 21 years imprisoned in her own home.
Aris was diagnosed with prostate cancer in 1997 and, refused a visa by the junta, died without seeing his wife again. Visits by Alexander and Kim were also stopped.
Kim, now 35, was reunited with his mother soon after her release from house arrest in 2010. Alexander, 39, lives in Washington State, but didn't see Suu Kyi during her whirlwind US trip.
Nor did her estranged brother Aung San Oo, now a US citizen living in San Diego. They have fought a 12-year legal battle over the house on University Avenue. A Yangon court in June awarded Aung San Oo a half-share in the two-acre property, but Suu Kyi's lawyers said she will appeal.
© Thomson Reuters 2012