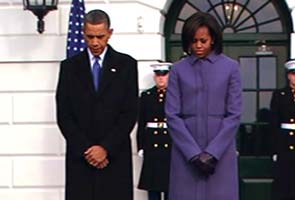 Washington:
US President Barack Obama's job approval ratings have improved over his handling of the January 8 shooting in Arizona.
According to latest polls, 78 per cent of Americans approve of the way Obama responded to the shootings and the message of national unity that he made at the memorial in Tucson last week.
According to the polls, 71 per cent of Republicans and conservatives evaluated his leadership positively.
Last November, in what was largely seen as a referendum on the President, the Democratic Party suffered a humiliating defeat in the midterm Congressional elections.
Arizona Democrat Gabrielle Giffords was gravely wounded in the January 8 shooting rampage. Eighteen others were also shot at, six of them died.