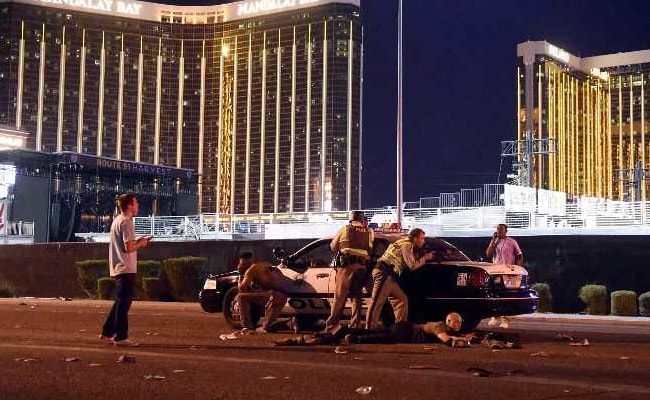 For eight months, Shelly Alexander has found herself on the verge of going to pieces whenever she hears loud noises - and for good reason.
The Noblesville, Indiana, special education assistant was in a taxi near the Route 91 Harvest music festival on the Las Vegas Strip when Stephen Paddock opened fire from the 32nd floor of the Mandalay Bay hotel on Oct. 1, killing 58 people and injuring a staggering 851.
Paddock used a bump-stock attachment that made his semiautomatic rifle fire nearly as rapidly as an automatic weapon - nine percussive bangs every second. By the end, authorities estimated, he had fired nearly 1,100 bullets. Alexander's taxi was caught in the hail of bullets.
None of them hit her, but she did not leave Las Vegas unscathed.
She goes to counseling regularly to deal with the trauma she experienced. And she's constantly having a mental dialogue with herself whenever she hears fireworks or doors slamming or a car backfiring.
"Since Vegas (when) there's been fireworks or balloons popping, there's been a lot of noise triggers for me," she told the Dubois County (Indiana) Herald. "I have to make reality of it. I have to make up, 'Oh, it's just balloons. It's just fireworks.' I have to make truth to it."
So when she heard a loud commotion and the sound of people running at Noblesville West Middle School, where she works, on May 25, she figured the worry that suddenly overcame her was her body's typically overcharged response. "I was just like, 'Oh, it's just kids (being loud) at the end of the year.'"
She was wrong.
A 13-year-old student had excused himself from a class nearby and returned with two guns. The boy opened fire, shooting a 13-year-old classmate and a teacher - and putting Alexander in a small, unsought fraternity of people who have survived two gun attacks on innocent people.
A 7th-grade science teacher, Jason Seaman, sprinted toward the student and disarmed him. Seaman was shot three times, but survived.
About that time, someone made an announcement over the school's PA system. This was not a drill, it said. An active shooter was in the building.
Alexander, meanwhile, was winning the battle against her fight-or-flight response.
In Las Vegas, she told the Herald in a letter, "I have never been so scared in my entire life, and I truly thought that was the end. I cried in hysterics and kept my head covered until I was home" at her hotel.
But with a roomful of middle school students to protect that morning in May, the situation was different.
"I knew as a leader in the building, I had to turn that (panic) to purpose," Alexander told the Herald. "I had to turn my pain and worry into motion, basically. I had to protect."
She was also more prepared; the school had put her and other teachers through active shooter training.
She and her students sheltered in a locked classroom, according to Fox News. Later, she escorted them to safety. Inside, she was trying to manage flashbacks of Las Vegas - and to quell the strong emotions that came with them.
Now as her school and her community recover from the shooting, she's contending with the bittersweet fact that she has companions on her road to recovery.
"For me, in Vegas, I felt very alone," she told the Herald. "I felt like what I was experiencing was very odd and crazy. It was like my new normal. I couldn't get used to it. And I didn't have anybody that fully had compassion for it because they didn't experience it with me. But with this (Noblesville) ... we're all going through it together.
"I think my job is to make sure the staff knows there is help out there."
(Except for the headline, this story has not been edited by NDTV staff and is published from a syndicated feed.)