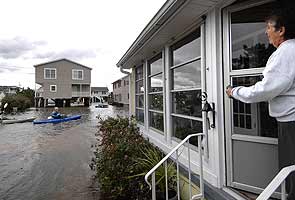 New York:
Army trucks will serve as polling stations in Tuesday's US presidential election as authorities in states stricken by superstorm Sandy race against time to get voting ready.
Amid predictions that election tallies could be delayed because of the devastation, authorities in New York and New Jersey are still unsure how many polling stations will be ready for the battle between President Barack Obama and Republican rival Mitt Romney.
Sandy "has the potential to create some chaos," commented Costas Panagopoulos, an assistant professor and US election campaigns specialist at Fordham University in New York.
Department of Defense trucks are set to be used in New Jersey, which was worst hit by Monday's storm. About 3,000 of the sites hosting presidential, congressional and local elections have no electricity.
New Jersey's Secretary of State Kim Guadagno said voters will find "a DoD truck with a well-situated National Guardsman and a big sign saying, 'Vote Here.'" Paper ballots will be used where there is no electricity.
New Jersey and New York have also extended the deadline for postal ballots. In New Jersey, they will still be accepted on election day. In New York, absentee ballots can be received and counted up to November 19.
Connecticut has also extended voter registration.
New York Board of Elections spokesman John Conklin said polling sites could be changed because of the storm.
Local boards in storm-stricken zones are assessing whether polling sites are fit for use. "They are looking at whether the poll site has power, whether it could have power by election day, whether it's accessible to the general public. Can voters get to it?" Conklin explained.
New York may set "super-polling" centers grouping areas where voting has not been possible, officials said. In some areas, like New York's Queens borough where fire destroyed many buildings, a tent could be used.
The storm has raised many questions about the election and when the final official result will be announced.
New York and New Jersey are both considered Obama strongholds, but the final result cannot be declared until all results are in.
"The election boards will need to scramble to deal with the ramifications from the storm," said Panagopoulos, the Fordham professor.
"Local officials who have been dealing with the fallout from the storm will now have to divert their attention to voting concerns."
He said voting stations without power and other storm troubles "could mean inaccuracies in how votes are counted. That is a possibility."
"If the election is as close as is expected, this is going to have an impact -- it could delay the outcome of the presidential election," Panagopoulous said.
Donna Lieberman, executive director of the New York Civil Liberties Union, said her group was most worried that people in communities ravaged by the storm will not be able vote.
"While their more immediate concerns may be more basic than voting -- like food and shelter -- they have a right to vote and it is important that we take every reasonable measure to ensure that they can exercise that right," she said.
Lieberman expressed concern that even the extension of absentee ballots could not be as flexible as necessary to maximize voting.
"We will have tentative results on Tuesday night or Wednesday morning, depending on how close it is, and I think that everybody will be watching to be sure that entire communities are not disenfranchised," she said.
"We have problems in easy elections, so we will have bigger problems in a difficult election."
New York Mayor Michael Bloomberg has insisted the election will go ahead no matter what, while stressing it is not organized by the city.
"It's a shame if some bureaucrats were to screw it up and hopefully that won't happen. Voting is not just a right, it's a symbol of everything we fight and die for," he said.