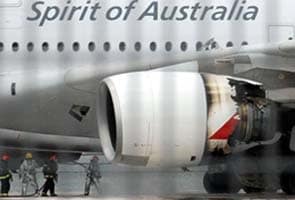 Singapore:
Singapore Airlines today joined Qantas in grounding several A380 super jumbos because of engine problems, piling more pressure on European aircraft maker Airbus and Britain's Rolls-Royce.
The SIA said it would keep three of its 11 Airbus A380s on the tarmac to carry out "precautionary" engine changes, almost a week after a mid-air engine blowout on one of the double-decker planes operated by Qantas.
The incidents have thrown the A380 -- the mammoth aircraft vying with Boeing's 787 Dreamliner in the long-haul sector -- into the safety spotlight three years after it took to the skies.
Both two airlines use Trent 900 engines manufactured by British aerospace engineering firm Rolls-Royce on their A380 fleets.
"Based on further analysis of inspection findings as the investigation into last week's incident involving another operator's Airbus A380 is progressing, Singapore Airlines will be carrying out precautionary engine changes on three A380s," SIA said in a statement.
"We were advised by Rolls-Royce in particular that these three engines had signs of oil stains," an SIA spokeswoman told AFP. "It really truly is a precautionary thing, we don't want to take risks."
A Singapore-based spokeswoman for Rolls-Royce declined to comment on the SIA move but told AFP that "safety continues to remain Rolls-Royce's highest priority."
Rolls-Royce shares have tumbled since the Qantas plane was forced to make its emergency landing in Singapore after engine blowout, the first mid-air drama for the A380 since the aircraft fist began operating in 2007.
The Australian flag-carrier, which has not had a fatal air crash in almost 60 years, on Monday extended the grounding of its entire fleet of super jumbos for at least three more days after finding oil leaks in some engines.
Qantas chief executive Alan Joyce said last week that early signs pointed to a "material failure or a design issue" in the engines.