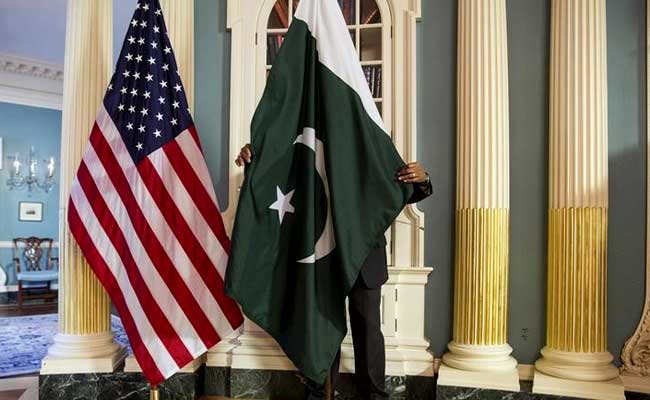 Highlights
US blocks $225 million military aid to Pak, hours after Trump's tweet
Trump slammed Pak for providing "safe havens to the terrorists"
Pak hit back, saying US gave "nothing but invective & mistrust"
New Delhi:
The US has blocked 255 million dollars in military aid to Pakistan soon after US President Donald Trump tweeted "no more," declaring that America had "foolishly" given aid to Pakistan over 15 years and got in return "lies and deceit." Mr Trump blasted Pakistan for giving "safe haven to the terrorists we hunt in Afghanistan". India has said its stand on Pakistan's role in terror is vindicated. Islamabad has hit back saying the US should "stop blaming Pakistan for its failures in Afghanistan."
Here is 10-point cheat sheet to this big story:
The White House has confirmed that the US has suspended its $ 255 million military aid to Pakistan for now, saying the fate of such assistance will depend on Islamabad's response to terrorism. "The president has made clear the US expects Pakistan to take decisive action against terrorists and militants on its soil, and that Pakistan's actions in support of the South Asia Strategy will ultimately determine the trajectory of our relationship, including future security assistance," a senior administration official told news agency PTI.

"The United States has foolishly given Pakistan more than 33 billion dollars in aid over the last 15 years, and they have given us nothing but lies & deceit, thinking of our leaders as fools. They give safe haven to the terrorists we hunt in Afghanistan, with little help. No more!" Donald Trump tweeted on New Year's Day.

Pakistan's Defence Minister Khurram Dastgir-Khan hit back, also on Twitter, stating that Pakistan was an "anti-terror ally" of the US and had provided land and air communication, military bases and intelligence cooperation that "decimated Al-Qaeda over last 16 yrs." He accused America of giving Pakistan "nothing but invective & mistrust."

In an interview to Geo television, foreign minister Khawaja Muhammad Asif said Pakistan is ready to publicly give an account of "every detail" of US aid it has received, saying it is already doing all it could to combat terrorism within its borders. He asked the US to hold "its own people accountable for its failures in Afghanistan", claiming that all funds from the US had been "properly audited" and that "services (were) rendered."

Pakistan PM Shahid Khaqan Abbasi will hold an emergency meet with his cabinet and the National Security Committee today to frame a response to the US. Pakistani media reported that the country's Foreign Office had summoned the US Ambassador, but there was no word on the agenda of the sudden meeting.

"The Trump administration decision today has abundantly abundantly vindicated India's stand as far as terror is concerned as far as the role of Pakistan is concerned in perpetrating terrorism because end of the day terrorist is a terrorist... terror is terror and it does not spare any single nation, any single country, any single region," Minister of State in the Prime Minister's Office Jitendra Singh said on Donald Trump's tweet.

US-Pakistani ties have chilled steadily under Mr Trump, who in August declared that "Pakistan often gives safe haven to agents of chaos, violence, and terror".

Last month, during a visit to Afghanistan, US Vice President Mike Pence had issued a warning to the country, saying Trump had "put Pakistan on notice" that it has provided a "safe haven" for terrorist groups. "Those days are over," Pence said.

The US is upset over Pakistan freeing 2008 Mumbai attacks mastermind Hafiz Saeed from house arrest in November last year. Washington has offered a $10 million reward for information leading to Saeed's conviction and has declared his Jamaat-ud Dawa and Falah-i-Insaniat Foundation "terrorist fronts" for the Lashkar-e-Taiba, which attacked Mumbai in November 2008, killing 166 people.

On Monday, Pakistan banned the Jamaat-ud Dawa and Falah-i-Insaniat Foundation from collecting donations.