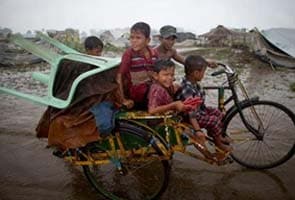 Chittagong:
Bangladesh began cleaning up on Friday after a killer cyclone wrecked thousands of homes along its coast while breathing a sigh of relief that the damage was not much worse.
Fourteen people are so far known to have died in Bangladesh after Cyclone Mahasen, which has since been downgraded to a tropical depression, lashed southern coastal regions with winds of up to 100 kilometres (62 miles) per hour.
Bangladeshi authorities also said that they had recovered the bodies of 25 Muslim Rohingya from neighbouring Myanmar, missing since their boat capsized Monday as they fled the oncoming storm. Twenty of them were children.
But there was a wider sense of relief that the damage and death toll was not higher in both countries where cyclones have killed hundreds of thousands of people in recent decades.
Bangladesh Prime Minister Sheikh Hasina has "expressed gratitude to the Almighty" in the aftermath of Mahasen and asked people to "offer thanksgiving prayers" on Friday, her spokesman Abul Kalam Azad told reporters.
At one stage, up to a million people had taken refuge in makeshift shelters along the coast, mainly in the densely-populated stretch between the second city of Chittagong and the Cox's Bazaar tourist region.
Most people however have since returned to their homes after the storm passed over, heading towards India as its strength waned.
Hundreds of thousands of people who live in low-lying areas and islands in the vast Meghna river estuary were the most affected, as thousands of their houses were levelled by the cyclone as it made landfall in the area.
"At least 15,000 mud-built houses were damaged by the cyclone in our district," Sirajul Islam, government administrator of Noakhali district, told AFP, adding villagers and fishermen in remote river shoals were the worst hit.
"We're still assessing the damage. We've sent our officials to do surveys. We'll get a full picture by end of today," said Nurul Amin, provincial commissioner, who said the death toll in the cyclone stood at 14.
Bangladesh authorities said the bodies of the Rohingya were found washed up on a beach near the Myanmar border.
"We assume they are of the missing Rohingya" due to their clothing, Cox's Bazaar police chief Mohammad Azad Mia told AFP.
Myanmar state media had earlier reported some 70,000 people were evacuated from the camps and vulnerable villages in Rakhine state, close to the border.
India's meteorological department said Mahasen was now headed over northeastern parts of the country such as Assan, Manipur and Nagaland. But it is now officially a tropical depression and unlikely to do no more than trigger flooding in isolated regions.