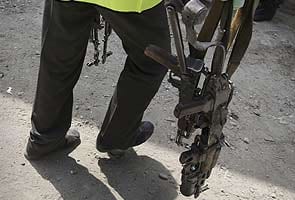 Kabul:
At least 48 people, including 36 terrorists, have been killed and 65 injured in what was a well-coordinated terror attack launched by heavily-armed Taliban militants in Kabul and three other cities that ended Monday following an 18-hour military operation, authorities said.
Taliban attacks on government interests has left 48 people, including the attackers, dead and injured 65, Interior Minister Bismillah Mohammadi said.
"Overall, 36 terrorists and 12 others including eight security personnel and four civilians were killed during terrorist and counter-terrorist operations," Xinhua quoted Mr Mohammadi as saying.
He said as many as 37 rebels armed with suicide vests, assault rifles and rocket-propelled grenades began their offensive Sunday and security forces launched counter offensive during which 36 attackers were killed and one captured.
Taliban militants fighting Afghan and North Atlantic Treaty Organization or NATO-led forces launched one of their biggest ever attacks in three parts of the capital city Kabul, Nangarhar's provincial capital Jalalabad city 120 km east of Kabul, Paktia's provincial capital Gerdez 100 km south and Logar's provincial capital Pul-e-Alam 60 km south of capital Kabul on Sunday as part of what they called spring offensive.
After the fierce fighting came to an end in Kabul that Monday morning saw a string of explosions, police said Taliban militants have been brought under control and all the attackers have been killed.
"In the counter offensive against terrorists in Kabul, eight security personnel were (killed) and 46 sustained injuries. Out of these, five are civilians and the remaining are security personnel," said Mohammad Zahir, head of Crime Investigation department of Kabul police.
The attacks, which included suicide bombings and heavy gunfire, began at 1.35 pm on Sunday and was over at 7.30 am on Monday, reported Xinhua.
"The last of militants were overrun in Darul Aman area (of Kabul) at 7.30 am today (Monday) and all the attackers have been killed," the police statement said.
The statement, however, did not reveal the exact number of the attackers who were killed. It simply said all the attackers have been killed.
Though there was no clarity about how many people were killed in Kabul, the interior ministry said Afghan security forces backed by NATO-led troops have killed 47 Taliban militants and injured 31 over the past 24 hours.
"The Afghan National Police in harmony with the National Army and backed by the NATO-led Coalition Forces launched 11 joint operations in several provinces including Kabul over the past 24 hours during which 47 armed insurgents were killed, 31 wounded and 21 were arrested," a statement added.
However, it did not say if security forces suffered any casualties.
Sunday's attack on the Afghanistan capital was the first major assault in more than six months. The heavily guarded area of Kabul, where the attacks have been carried out, is frequented by foreigners and is rarely the scene of violence.
As the security forces fought the heavily-armed Taliban rebels, a string of explosions rocked Kabul early Monday.
The explosions persisted for some time. They followed gunfire that lasted well into Sunday night in an area that houses government offices and embassies, reported CNN.
Interior Ministry spokesperson Sediq Seddiqi stressed that the Taliban guerrillas "have no choice except surrendering or to be killed by the Afghan forces".
The Taliban said Sunday's attacks marked the start of a "spring offensive".
The last attack on Kabul of this scale was witnessed in September 2011 when heavily armed insurgents took over an unfinished high-rise building and opened fire on the US embassy and NATO headquarters. That attack left 14 Afghans dead.