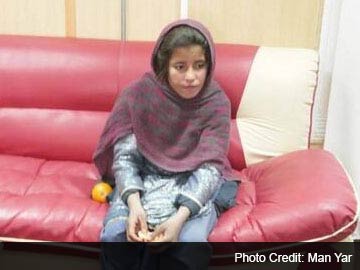 Kandahar, Afghanistan:
Afghan police on Tuesday searched for a Taliban commander who allegedly forced his 10-year-old sister to wear an explosives-packed vest for an aborted suicide attack in the southern province of Helmand.
The interior ministry said the girl, named as Spozhmai, was detained before she detonated the vest near a police checkpoint in the district of Khanashin, but some local officials said the trigger button did not work when she pressed it.
Speaking on Monday at a press conference, the girl said she had been ordered by her brother to undertake the suicide mission but had decided at the last minute not to go through with it.
"I was tired of my stepmother. My brother told me to wear the black vest, go to the police checkpoint and press the button," she told reporters.
"I went past a river and decided to drop the vest. My brother fled and police arrested me. He had told me nothing would happen to me."
During the press conference with local media in the Helmand provincial capital of Lashkar Gah, the girl - wearing a blue dress and red and grey headscarf - spoke briefly about the incident on Sunday night.
"We have appointed a team to investigate this," Omar Zwak, the Helmand governor's spokesman, told AFP.
"They will try to find the brother and father of the girl, and they will visit the police post and talk to the police who found and detained the girl. We are trying to find out what exactly has happened."
Zwak said the girl gave police varying versions of the events, at one stage saying that she had crossed the river alone and got cold and wet before being arrested and then secretly returning home to put on dry clothes.
She did not explain why the police allowed her home.
The girl, who is now in police custody, also told police she did not want to live at home any longer because her brother and father were Taliban fighters and would kill her, and that she also did not get on with her stepmother.
Some local media quoted officials as saying she was wearing the suicide vest when arrested, but it was not produced by police.
The interior ministry's account said her brother was a Taliban commander who coerced her into putting on the vest and walking towards the police post.
Female child suicide bombers are extremely rare in Afghanistan, but boys have been used to evade security and detonate explosives - a tactic also seen in Iraq where disabled children have sometimes been persuaded to carry suicide vests.
President Hamid Karzai condemned using children in suicide attacks and called on Taliban insurgent leaders to condemn the practice.
"Coercing children into suicide attacks is against the instructions of holy Islam and the values of Afghan culture," he said in a statement, saying provincial elders should help the girl to return to live safely with her family.
In 2011, Karzai met about 20 boys aged as young as seven who had been trained as suicide bombers and he ordered their release on compassionate grounds.
Afghan officials say the Taliban give child suicide bombers drugs to embolden them and they are promised they will go to paradise when they die.
Taliban militants, who have been fighting the US-backed government since they were ousted from power in late 2001 after the 9/11 attacks, have always denied using children to launch attacks.
Their spokesmen denied any involvement with the incident in Helmand.