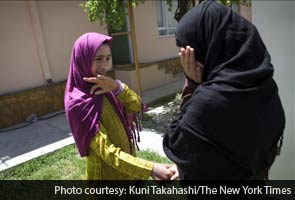 Kabul:
A court has reversed the convictions of three Afghans jailed for torturing a young relative who had refused to become a prostitute, alarming activists who had celebrated the guilty verdicts as a warning to all those who would seek to reverse the strides made by women here in the past 12 years.
A family had bought the young woman, Sahar Gul, from her stepbrother for $5,000 and had forced her to marry in 2011, when she was just 13 or 14. When she refused to consummate the marriage, her in-laws locked her in a basement, where they burned her with hot wires, pulled out her fingernails and twisted her skin with pliers for months.
She was discovered in December 2011 curled up in a dank and dark corner of the cellar and badly malnourished. Gul now lives in a shelter in Kabul.
Her case attracted widespread attention in Afghanistan and abroad. Three of her in-laws were convicted last year of attempted murder, and each was sentenced to 10 years in prison. The convictions were upheld on appeal, although her husband, who is in his 30s, remains at large.
Last month, however, in a decision that received little publicity, the Supreme Court sent the case back to the appeals court, saying that the violence appeared to warrant convictions for assault, not attempted murder, according to lawyers for the defendants.
The appeals court agreed, voiding the convictions and ordering that the defendants - Gul's mother-in-law, sister-in-law and father-in-law - be set free. The two women were released this week after about a year in prison, the lawyers said. They were not sure whether the father-in-law was yet out of prison.
Neither court officials nor prosecutors immediately responded to questions about the case. But officials at the women's prison in Kabul, where the two female defendants were being held, confirmed that both had been released Monday. Officials at the main men's prison did not respond to calls for comment.
As word spread in Kabul on Wednesday, Western officials said they were still gathering details but would probably have a response in the coming days. Afghan women's rights activists reacted with alarm and said they would press to have the three defendants retried.
"There's smoke coming out of my hair. I am so angry," said Manizha Naderi, the executive director of Women for Afghan Women. "This poor girl was in the basement for months. If she wasn't rescued, she would be dead. She was starved and burned and had her fingernails pulled out. How is this not attempted murder?"
If the case had once served as a warning, it will now encourage conservative politicians and mullahs to push harder against the rights of women, Naderi and other activists said.
The courts' decisions make "a statement that violence against women is not that important, that Afghanistan is becoming more conservative," Naderi added.
That increasingly looks to be the case. As the defendants were being released this week, President Hamid Karzai made five highly criticized appointments to the Afghanistan Independent Human Rights Commission, a government-backed watchdog.
The five included a mullah who served in the Taliban government and has opposed legislation protecting women's rights. Another is tied to an Islamist political party dominated by warlords.
© 2013, The New York Times News Service