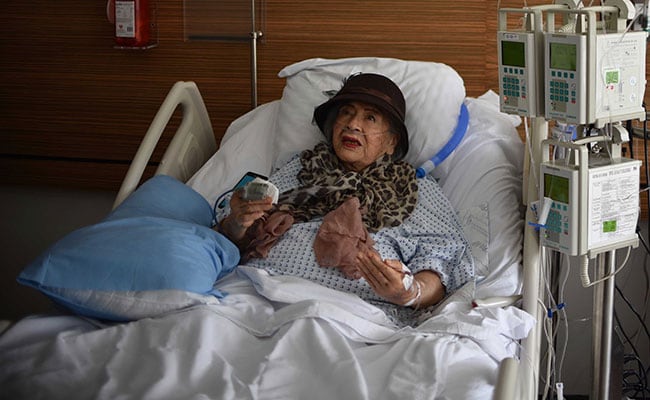 Mexico City:
"Lights! Cameras! Action!" laughingly orders Adela Peralta, an eccentric 87-year-old actress, from her hospital bed as she recounts the incredible ordeal she suffered under the rubble of Mexico's quake.
The painful injuries she sustained while trapped for 32 hours before being pulled to safety have done nothing to dent her natural exuberance.
"I'm alive and lively," she assured AFP, as she recovers from two spinal fractures and injuries to her esophagus.
She even took time to apply lipstick and put on a glamorous hat and cheetah-print scarf.
In her long career as a celebrity Peralta has been a comedian, a magician, a world fishing champion and a committed feminist.
This mother of three children has more recently become known as Mexico's oldest clown, inhabiting the role of Tiki Tiki, whose red nose makes children laugh.
"I'm God's miracle," she said, explaining how she survived so long under the wreckage of the quake, which killed more than 330 people, most of them in Mexico City.
Her apartment block, in the south of the capital, had resisted a far more powerful quake in 1985, which had killed 10,000 people in the city.
But on September 19 this year, when the earth shook again with a 7.1-magnitude tremor, the building was reduced to debris. Her ground-floor apartment was buried under a mountain of stone, concrete and dust.
Magic wand
"When it started to shake," she said, "I had in front of me a wall-sized mirror, and a big block of around 1.3 meters (4.3 feet) came off, and the door to the kitchen blocked the entranceway to the apartment."
"The electricity went out, and I found myself bent into a very uncomfortable position. I was never able to sit properly during the whole 32 hours."
During her long wait, she started to hallucinate. She thought she saw puppies and children playing. She also worried about her family.
"I thought about my three children and I wondered, 'Are they still alive?' I prayed constantly."
Several neighbors were pulled from the remains of the building. But as the hours rolled on, more and more dead bodies emerged, among them a grandmother hugging her granddaughter, recounted Peralta's daughter, Sara Peralta.
To ward off the anguish she was feeling, Sara brandished her mother's magic wand. "Bibbidi-bobbidi-boo, make Tiki Tiki appear here," she chanted at the debris.
"People believed I was going hysterical," Sara said, laughing.
Thirty hours after the earthquake, emergency workers at the site made their pessimism known: they found no more indications that anyone was still trapped and waiting for rescue. They expected to find only the body of Adela Peralta, the last person left unaccounted for at the address.
'Live, live, live!'
But even recovering her body looked like an impossible task. Some people at the site even suggested using earth-moving machinery to make sifting through the debris for her remains easier.
"I fought against it fiercely," Sara said.
Then Adela heard a voice in the darkness telling her: "Madam, don't go. We will get you out of there."
"And I asked myself, 'Where could I go?', I couldn't even lift myself up," the elderly woman joked.
Outside, the terrible long silence was pierced by a cry of, "She's alive! She's alive!" -- taken up by the rescuers after one of them spotted Adela's head emerge from a tight space between stones and twisted metal. The crowd that had been keeping vigil broke into applause.
The rescue, against such formidable odds, was captured on video on September 20 by one of the firemen taking part in the effort.
Adela remembered "the loud and happy clapping of all these people upon learning I was alive."
And, for a lady who had known her share of applause from a life spent on stage, that ovation was "really special -- it was a divine applause, absolutely wonderful for my heart," she said, her voice raw with emotion.
And for her encore, when she leaves the hospital? "To live, live, live!"
(This story has not been edited by NDTV staff and is auto-generated from a syndicated feed.)