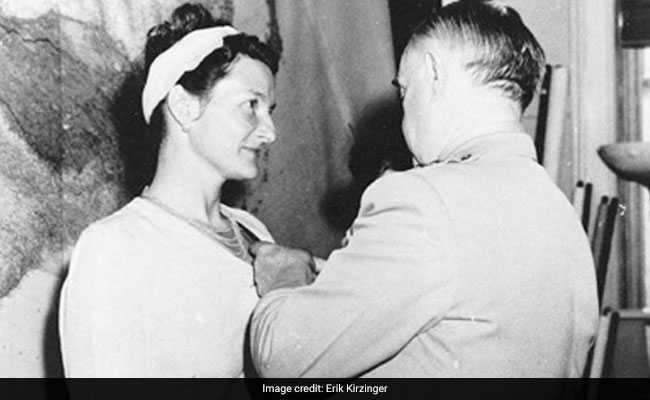 Washington:
President Donald Trump made history Tuesday when he nominated Gina Haspel to become the first female director of the CIA. If she replaces Mike Pompeo, who would replace Rex Tillerson as Secretary of State, her confirmation would mark a massive milestone for the spy agency, which has long been dominated by men.
Since the CIA was formally established in September 1947, not one of its directors has been a woman. When it was founded after World War II, a group of women - many of them former operatives from the CIA's precursor, the Office of Strategic Services - have worked for Langley. Some, including legendary World War II spy Virginia Hall, were highly accomplished and brave operatives, but did not earn the same salaries or promotions as their male counterparts. A far larger number of the agency's women worked as secretaries or clerks.
To its credit, the CIA from its earliest days has acknowledged the gender inequities and has attempted to remedy them. In the early 1950s, then-director Allen Dulles ordered up an internal review - led by a group of CIA women famously called "The Petticoat Panel" - to examine the pay and rank disparities between male and female employees. According to the CIA's website, the report found that the median grade for women was GS-5 and, for men, GS-9. Not a single woman worked in the senior executive service.
Over the years, the CIA has dramatically increased the number of women in its ranks, with the agency reporting that the percentage of women at the agency was just under 50 percent, including full and part-time employees.
Women have also played major roles in two key moments in the agency's history: They led the team that identified Aldrich Ames as one of the agency's most notorious Russian moles; and they also dominated the group known as Alec Station that had been established in the years before the Sept. 11 terrorist attacks to track Osama bin Laden and al-Qaida operatives.
Haspel, a 33-year veteran of the agency, is reportedly well-liked among CIA lifers. But she has also been condemned for her involvement in running a secret "black site" prison where detainees were waterboarded and subjected to other forms of torture.
Women spies have long captured the public's imagination. They've had starring roles in Hollywood dramas, most notably "Zero Dark Thirty," about the Navy SEAL raid that killed Osama Bin Laden, and Showtime's "Homeland," which stars an on-again, off-again CIA officer played by actress Clare Danes.
Here are some of the agency's most notable female trailblazers.
- Virginia Hall, "The Limping Lady"
The Maryland-born spy was known as "The Limping Lady" because she relied on a prosthetic limb after losing her left leg in a hunting accident. worked for the OSS behind enemy lines in France to help foment the resistance against the Nazis. But she was being hunted by Gestapo chief, Nikolaus "Klaus" Barbie, who went by his own moniker, "The Butcher of Lyon." Barbie once reportedly told his underlings, "I'd give anything to lay my hands on that Canadian b--."
With her life in danger, Hall finally fled France by trekking over the snow-covered mountains into Spain. She used her good leg as a snowplow and dragged the seven-pound wooden leg she'd nicknamed "Cuthbert" behind her, according to Judith Pearson's 2005 biography of Hall, "The Wolves at the Door." After the war, Hall joined the CIA, and last year the agency named a training facility after her.
- Elizabeth McIntosh, legendary OSS operative
Originally a journalist in Hawaii who witnessed the Pearl Harbor attack in 1941, McIntosh - known as "Betty" - spoke fluent Japanese and worked as a propaganda specialist across Asia and Southeast Asia during World War II.
After the OSS, she went on to work for the CIA, but she always kept mum in interviews about her work there. When she turned 100 in 2015, then-CIA director John Brennan held a celebration for her. Three months later, she passed away.
- Sandy Grimes and Jeanne Vertefeuille, Russian mole hunters
These two women led the hunt for a Russian mole inside Langley who had been passing along some of the agency's biggest secrets - the names of Russian informants - to the KGB. The mole turned out to be Aldrich Ames.
- Jennifer Matthews, al-Qaida warrior
One of the early members of Alec Station, Matthews doggedly hunted al-Qaida well before the phrase became part of American vernacular. She quickly ascended the agency's ladder and, at the height of the chase for Osama bin Laden, was promoted to run a CIA base in Khost, Afghanistan. On Dec. 30, 2009, according to a CIA internal report, she and fellow members of her team failed to follow standard safety procedures, and allowed a Jordanian doctor Humam al-Balawi - believed to be close to Bin Laden - onto the base without ensuring he wasn't carrying explosives.
When al-Balawi was driven onto the base, he blew himself up, killing Matthews and six other CIA operatives. After the attack, Matthews received criticism that she'd been fast-tracked and was unqualified to run the base, setting off rounds of backlash from former and current CIA officers who claimed the attacks were sexist. Matthews' role at the agency was depicted in the movie, "Zero Dark Thirty" and chronicled extensively by Post reporter Joby Warrick in his book, "The Triple Agent."
(This story has not been edited by NDTV staff and is auto-generated from a syndicated feed.)