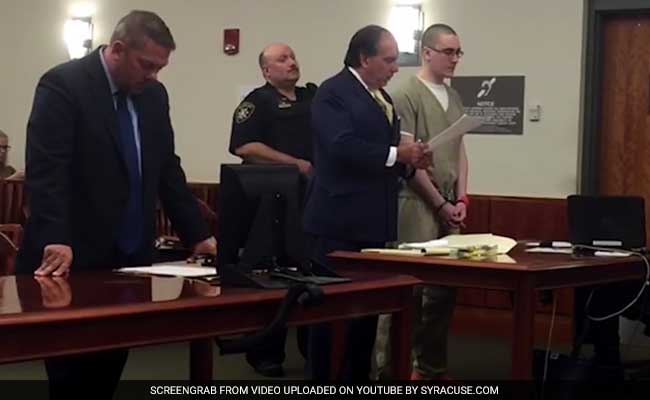 Not 2 years old, Maddox Lawrence knew heartache.
The toddler had struggled with a rare form of eye cancer - and survived. In fact, prosecutors told CBS affiliate WSTM that the attention she had been getting may have made her father jealous and may have motivated him to do the unspeakable.
One weekend in February, Maddox went missing from her home in Upstate New York - she was last seen in a white shirt with brown puppies on it, pink pants, a teeny tiny coat and a knit hat decorated with pom-poms, authorities said at the time.
Her father, Ryan Lawrence, was missing, too.
He had left a note for Maddox's mother, suggesting that he may hurt himself or his child, police said in a statement.
Authorities issued an Amber Alert for them.
"Ryan, if you're listening, please just bring Maddox home," Maddox's mother, Morgan Lawrence, pleaded during a news conference at the time, according Syracuse.com. "Maddox, I love you honey."
"Ryan please, just please, call. We just want to know that the both of you are safe. The whole family loves you. The whole family wants you both home. We just want to know you're in a good place."
Within days, police had found Ryan Lawrence.
Then they found a blond-haired, brown-eyed baby, beaten, burned and buried in a watery grave in a creek in Syracuse, N.Y.
Lawrence, 25, was charged with his daughter's death. He pleaded guilty Thursday to first-degree murder and faces up to 25 years to life in prison. His sentencing hearing is set for next month.
By all appearances, Lawrence was a devoted father, toting his toddler with him each morning when he delivered pastries to coffee shops in Syracuse, according to Syracuse.com, or holding her chubby hand during the chemotherapy intended to destroy the deadly cancer spreading through her eye.
On Feb. 20, Lawrence and his little girl dropped Maddox's mother at a clothing shop where she worked. The plan was for them to return to pick her up later that night, but they never showed up, according to Syracuse.com.
When Morgan Lawrence got home, she found the family car, with the keys in it, outside.
Inside, she found the note.
Police Sgt. Richard Helterline told Syracuse.com that Lawrence seemed to be suffering from "mental impairment" when he wrote it.
Authorities said Lawrence kidnapped his 21-month-old daughter and took her to a secluded area in nearby Cortland County.
There, authorities said, he beat her in the head with a wooden baseball bat, killing her - then burned her body in a fire pit.
He took her body back to Onondaga County, where, authorities said, he tied her to a cinder block and sunk her in a creek.
"I don't know why he did it - I know it was an act of evil," Rick Trunfio, first chief assistant district attorney for Onondaga County, said in an interview. "When I look at this little girl and realize what he did to her, I have a loss of words to describe what could possibly be a motive."
Indeed, many who knew the family said it did not make sense.
Some told Syracuse.com that Maddox's parents were overwhelmed - working meager jobs and caring for an ill infant.
Onondaga County District Attorney Bill Fitzpatrick told WSTM that in interviews with police, Lawrence suggested that it may have been jealousy.
"Maddox was a fighter," Fitzpatrick told the news station. "She had been fighting a very unusual form of cancer and all indications were that she was successful. But it was expensive - the treatment - and it was time consuming. If that contributed to her demise, I don't know.
"His statements allude to almost a sense of jealousy about the attention that this child was getting as opposed to the attention he was getting."
However, Lawrence's attorney, Michael Vavonese, told the news station jealousy had nothing to do with it.
"He was a dutiful, caring and loving father for every moment of Maddox's life up through the time this incident occurred," Vavonese said about Lawrence, according to Time Warner Cable News.
It wasn't until two days after Maddox's death that authorities found Lawrence.
A bystander had spotted him, though he was in disguise - wearing a wig, hat and sunglasses, according to Syracuse.com.
Police took him in, but the first chief assistant district attorney said Lawrence would not cooperate with police.
"He gave a couple of stories about where the child was," Trunfio told The Post.
"It took us a long time to get him to admit and be truthful about how he killed her and disposed of her body," Trunfio added.
When he finally confessed to his daughter's death, Trunfio said, he gave police several different reasons.
Syracuse police, with help from New York State Police divers, recovered Maddox's body from the creek on Feb. 23 , police said.
Lawrence was first arrested on charges of second-degree murder, according to the criminal complaint. He was later indicted and his charge upgraded to first-degree murder, prosecutors said.
Prosecutors said Lawrence was evaluated and deemed fit to stand trial, but his attorney argued that he was suffering from "extreme emotional disturbance" at the time he killed his daughter and should be tried for manslaughter.
"It's the most difficult case I've had since I've been practicing law and I've had all kinds of notorious cases throughout those 33 years, but this one has gotten to me the most," Vavonese said, according to Time Warner Cable News.
"It's the most extremely difficult case given everything involved."
The first chief assistant district attorney said that Maddox's mother had no knowledge or involvement in her child's death and that she was as "devastated as any mother would be. The defendant's family was devastated."
So was the community.
Baby Maddox's story ignited shock and sorrow. People built a memorial for the toddler, leaving candles, teddy bears and other trinkets along the creek to show support. They put up a memorial Facebook page to offer prayers and peace.
"God bless Baby Maddox."
"Fly High Little Angel."
"Rest easy baby girl. Continue to watch over your mommy and your family down here. I pray earthly justice will be granted for the one that hurt you."
On Thursday, after Lawrence pleaded guilty, his attorney told reporters that Lawrence is "unbelievably remorseful for everything he's done."
"He's torn apart," Vavonese said. "His life will be changed forever. He just thought accepting responsibility at this point, avoiding the pain of a trial for everyone involved, was the best thing to do and forgo his right to have a jury consider extreme emotional disturbance.
"It has torn up the community and both families involved and certainly himself."
© 2016 The Washington Post
(This story has not been edited by NDTV staff and is auto-generated from a syndicated feed.)