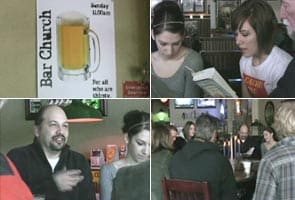 Minnesota:
A northern Minnesota man spends his Sunday mornings in a bar. But he's not running from God, he's chasing him.
Chris Fletcher is a paramedic, part-time bartender and seminary student. For the last few months he's been leading a weekly service at Dunnigan's Pub & Grub, a watering hole on Lake Superior's North Shore.
"Jesus' miracle, his first miracle he did was that he turned water into wine, and I think he'd be more comfortable in a lot of bars than he would be in a lot of churches right now." says Chris Fletcher, Bar Church Organiser.
If you think that statement is blasphemous you should see how this man spends his Sundays.
Few months ago, on a Saturday night Fletcher was having a drink at Dunnigan's, when a stranger approached and asked to talk. She shared some personal problems and as Fletcher lent a sympathetic ear, an idea was born. Six months later, Sunday attendance at the weekly religious service grew to as many as 25 people.
"Jesus always says to go out and be a light to the world, and how can you be a light to the world if you're all sitting in a church together?" said Betsy Nelson, Bar Church Attendee.
A native of Sudbury, Ontario, 43-year-old Fletcher grew up in the Worldwide Church of God, a small evangelical sect. He left religion behind as a young man, but was drawn back as he was hitting 40 and experiencing a series of personal crises: the death of a close friend in a car accident and the dissolution of his marriage. Last spring, Fletcher was accepted in Bethel Seminary in St. Paul; he now commutes close to 250 kilometres south twice a week for classes.
"I chose that because I thought the bar part of the name would be a problem for some religious people, having a service in a bar, and I knew the church part of it would... the same trouble for some of the people that are in the bar, and I wanted to do that to cause that tension."
Now as much as his step may have shocked you, Fletcher isn't the first person to hold a weekly service in a tavern, nightclub or other such establishment. Such gatherings have started around the country in recent years, as well as 'home churches' that serve much the same purpose.