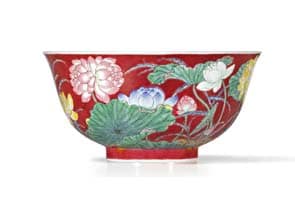 Hong Kong:
A rare red "lotus bowl" from the Chinese emperor Kangxi period of 1662-1722 has been sold for an eye-popping $9.5 million at a Hong Kong sale, auction house Sotheby's said.
The price set a new world record for any Chinese porcelain from the Kangxi period during the Qing dynasty after it was bought by a Hong Kong ceramics dealer for HK$74 million ($9.5 million), Sotheby's said in a statement.
The ruby-ground "falangcai" bowl decorated with pink, yellow and blue lotuses was originally expected to fetch HK$70 million at the sale, part of Sotheby's six-day spring sale in the southern Chinese city that concluded on Monday.
The auctioneer said the bowl broke a previous Qing Kangxi porcelain record in 2006, when a blue and white "Dragon" vase was sold for HK$22.52 million.
Hong Kong has emerged as one of the world's major auction hubs in art and wine thanks to cash-rich mainland Chinese buyers who have a growing appetite for luxury items amid the country's economic boom.
A flower-shaped Chinese porcelain bowl from the Northern Song dynasty (960-1127) fetched nearly $27 million at a Hong Kong auction last year.