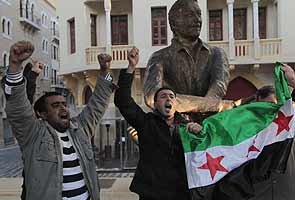 Beirut:
At least 61 people were killed on Friday in Syria on thefirst day of a truce to mark the Eid al-Adha Muslim holiday, the SyrianObservatory for Human Rights reported.
The Britain-based watchdog which said the truce collapsed in several regionsgave an early evening death toll of 61 dead -- 21 civilians, 27 soldiers and 13rebels.
Observatory director Rami Abdel Rahman reported casualties from fighting andcar bombings in various parts of Syria, including in and around Damascus, inthe second city Aleppo, in the central city of Homs and near the Wadi Deifmilitary base in the northwest province of Idlib.
Ten soldiers and four rebels were killed at Wadi Deif, where fierce clasheshave raged since insurgents overran the nearby strategic town of Maaretal-Numan on October 9, cutting off a key army supply route along theAleppo-Damascus highway.
Fighters from the jihadist Al-Nusra Front, which categorically rejected anytruce, have been participating in the fighting at Wadi Daif, according to theObservatory. Three soldiers were killed and eight were wounded in a car bombattack in the southern city of Daraa, according to the watchdog, while Syrianstate television said a car bombing in Damascus killed five people and wounded32.
No casualties were reported from a third car bomb explosion in the southernDamascus district of Tadamun, where a car bombing had killed six people twodays before.
Al-Nosra Front has claimed the majority of deadly car bombings and suicideattacks over the course of the conflict.
The Syrian government and main rebel Free Syrian Army had agreedto observe the truce brokered by UN-Arab League peace envoy Lakhdar Brahimi,but both sides had pledged to respond if attacked.