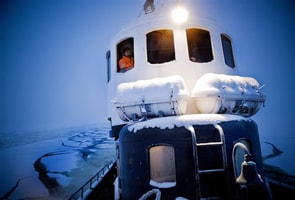 Moscow:
A Russian icebreaker is laboring through howling winds and heavy snow as it tries to reach icebound ships in the Sea of Okhotsk where more than 500 seamen are trapped.
Three of the vessels have been trapped since Friday in ice estimated at two meters thick. The state news agency RIA Novosti said two more ships became stuck today.
The Sea of Okhotsk is an arm of the northern Pacific west of Russia's Kamchatka Peninsula.
A statement from the Transport Ministry said there was no immediate danger to the crews, who have sufficient food and water. The Ministry said an icebreaker was expected to reach their vicinity early Thursday.
RIA Novosti quoted a local coast guard official as saying winds were up to 30 meters per second.