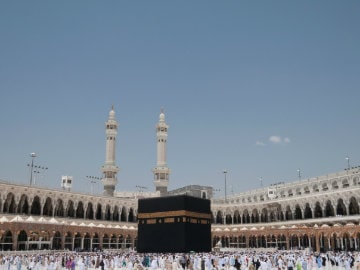 Mecca:
Over two million Muslims from around the globe, including 136,000 Indians, have gathered in Mecca to perform Haj that reaches its zenith on Friday as officials said all arrangements are in place for the world's largest annual gathering in the city that recently underwent a multi-billion revamp.
Pilgrims were excited and filled with enthusiasm as this was a first visit to the holy city for many. Tears and a sense of reflection prevailed among them.
Mecca Governor Prince Mishaal bin Abdullah said preparations have been completed for the annual pilgrimage, which begins today.
"The plan for welcoming pilgrims was successful. All government and private agencies should mobilise their human and technical resources to make the annual event a big success," he said.
Prince Mishaal, who is chairman of the Central Haj Committee, has instructed security officers not to allow pilgrims into the holy sites without Haj permits and impose sanctions on violators.
Authorities have deployed over 70,000 officials in Mecca, Madina and other holy cities to ensure safety and security of pilgrims.
A number of foreign heads of state, including Bangladesh President Mohammed Abdul Hamid, Sudanese President Omar Bashir, Somali President Hassan Sheikh Mahmoud and Maldives President Abdulla Yameen, have arrived for Haj.
Pilgrims began leaving for Mina late in the night yesterday or early morning today.
Hundreds of thousands of people continued to circumambulate the Holy Kaaba in Mecca, where the Grand Mosque has been packed with pilgrims from across the world.
In the first phase, the pilgrims will spend the night in the tent-city of Mina reciting the Holy Quran or praying.
The pilgrims this year include more than 136,000 Indians who are set to move into Mina in groups.
"The arrangements by the Indian Haj Mission and the Saudi government have been very good. All our needs are taken care of and any problem we face is looked into," Mohammad Shahid, an Indian pilgrim staying in an Azizia accommodation in Mecca told PTI.