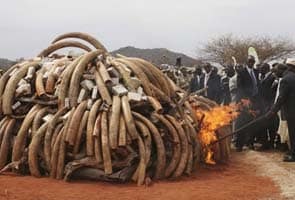 London:
Around 2,500 elephants were slaughtered across the world for ivory this year, according to a report by an environmental agency.
Experts from Washington-based Traffic environment agency said it has been the worst year for the animals since ivory sales were banned in 1989, the Daily Mail reported.
"As most large-scale ivory seizures fail to result in any arrests, I fear the criminals are winning. The escalation in ivory trade and elephant and rhino killing is being driven by the Asian syndicates that are now firmly enmeshed within African societies," said Traffic's elephant and rhino expert Tom Milliken.
At least 13 large seizures of ivory were made this year, which comprised 23,676 kg of the product. In 2010, there were six major seizures weighing less than 10,000 kg.
The latest seizure took place December 21 in Malaysia, where authorities confiscated African elephant tusks worth $1.3 million.
"In 23 years of compiling ivory seizure data, this is the worst year ever for large ivory seizures. 2011 has truly been a horrible year for elephants," Milliken said.