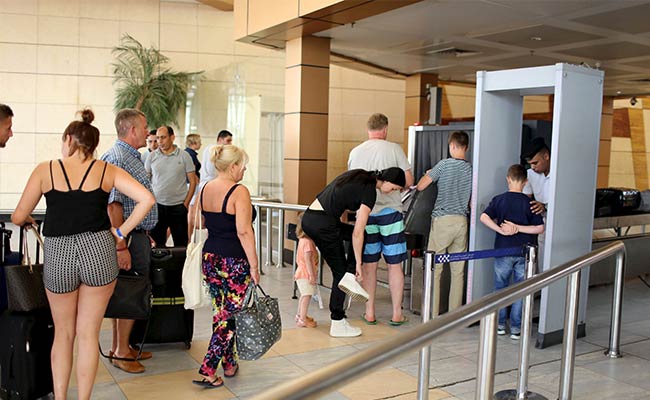 London:
Nearly 2,000 British holidaymakers stranded in the Egyptian resort of Sharm el-Sheikh were returning home Saturday after days of uncertainty following the Sinai plane crash.
Britain suspended flights to the Red Sea resort on Wednesday after saying it feared a bomb may have brought down the Russian jet that crashed after taking off from there last week, killing 224 people, and warning about security at the airport.
Nine flights carrying 1,945 people were coming back to Britain Saturday, according to transport officials -- two easyJet, two Monarch, two Thomson, two Thomas Cook and one British Airways.
But the British government warned that some tourists may have to stay on longer in the resort before they can be flown home.
"With a limited number of flights able to leave Sharm el-Sheikh each day for the UK, it is likely that tour operators or airlines will advise some people to extend their stay at their resort," a government spokesman said.
"We understand that tour operators and airlines are working to ensure that, where people need to extend their stay at their resort, necessary costs will be covered."
There were estimated to be as many as 20,000 Britons in Sharm el-Sheikh when the jet crashed just over a week ago, and the repatriation process could take days.
The first eight flights, carrying around 1,500 travellers, returned to Britain Friday after restrictions were lifted, but tourists were only allowed to bring carry-on bags, with check-in bags due to be flown back later.
Eleven British aircraft are on standby in Cyprus to help airlift thousands of British tourists from Sharm el-Sheikh as part of a British evacuation plan, airport authorities said.
"There seems to be difficulty in serving a large number of aircraft from the airport of Sharm el-Sheikh," said airports communication manager Adamos Aspris.
'Quite worrying'
On Friday, there were tears of relief as the first passengers landed at London Gatwick airport.
One of them, Nicky Bull, said she thought many people would "question whether they ever want to go to Egypt again."
"We were told when we got on the plane that the Egyptian army and MI5 had been guarding the plane," she added.
The Islamic State group has claimed it downed the plane which crashed last week, without explaining how, saying it was retaliation for Russian air strikes in Syria.
Russia has halted flights to Sharm el-Sheikh but Egypt Saturday pushed back against suspicions that the plane was bombed, saying the disaster probe had yet to establish a hypothesis.
Ben Khosravi, 27, who was on an easyJet flight that landed at Luton airport Friday, said security at Sharm el-Sheikh airport was "horrendous".
"It was quite worrying how easy you could get through -- you could pay people money to fast-track it," he said.