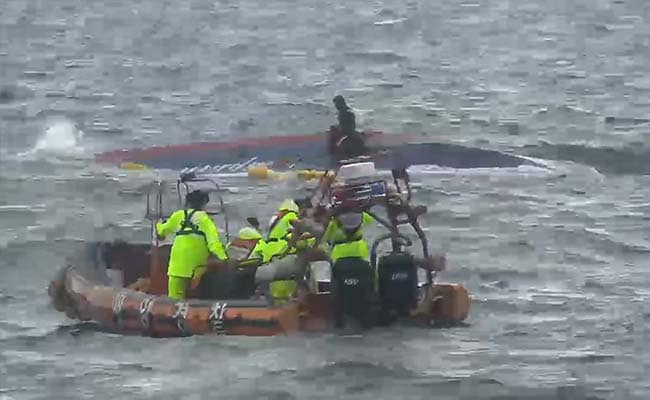 Seoul:
At least 10 people have died and eight others are still missing after a South Korean fishing charter boat capsized, the coastguard said on Sunday, while three survived after clinging to the wreckage for 10 hours.
The 9.77-tonne Dolphin went missing off the southwest coast near the island of Chuja Saturday night and its wreckage was found Sunday morning.
The three survivors have been rescued and flown by helicopter to a hospital on Jeju island south of Chuja.
"It has been determined that 21 people were on board the ill-fated boat, with three having been rescued, 10 found dead and eight missing," Lee Pyung-hyun, chief of the Jeju coast guard, was quoted by Yonhap news agency as saying.
More than 50 naval and coastguard vessels, as well as a Lynx helicopter and a P-3C maritime patrol plane, were searching for the missing.
One survivor said the boat capsized "in an instant" before many passengers were swept away by strong waves.
"I was sleeping when the boat's engine went off and the captain told us to get out and water started to fill the boat," the 38-year-old surnamed Park told Yonhap.
Park said he and other survivors climbed on top of a floating piece of the boat and held on for more than 10 hours before being rescued.
They praised the courage of the boat captain Kim Cheol-Soo, who was among the dead.
"Hold my hand!" a survivor called Lee quoted Kim as saying as the captain extended an arm from the top of the capsized boat.
"Our boat is connected to the coast guard, so they will come rescue us. Don't worry. They'll be here soon," the 46-year-old captain told passengers, trying to lift their spirits as they clung desperately to the boat.
Lee and the other two were saved early Sunday after hanging on to the boat for more than 10 hours, crying out for help and encouraging each other to hold on for just a little longer, Yonhap reported.
In contrast to the fishing boat skipper, the captain involved in South Korea's Sewol ferry disaster last year was among the first to abandon ship.
More than 300 people -- mainly schoolgirls -- died when the ferry went down in April 2014.